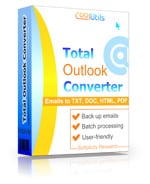 vCard is a handy format for sharing business cards. It gives ability to store contact information about different business partners, clients, colleagues in virtual form and have access to this data via a simple mail client. If for some reason you would like to extract the information from vCard file to another format, you will need a vCard converter. This is a program specialized in exporting data from vCard to different text or graphic formats for using it out of mail client, printing, faxing, etc.

Total Outlook Converter is a solution that can convert vCard files to one of the following formats:
DOC
TXT
PDF
HTML
TIFF
EML
By converting it to DOC you can view and edit the information about your contacts in Microsoft Word. TXT will make the contact storage maximally compact and viewable in all text editors. HTML is suitable for creating a web-optimized copy of vCard file for publishing it online. PDF is good for making a backup uneditable copy of your vCard storage. You can also convert contacts from vCard file to TIFF if you need to create a graphic copy of this document. EML conversion will turn vCard file to email.
Thanks to Total Outlook Converter, vCard conversion becomes a very easy task. All you need to do is to mark required vCard file as a source and choose the format for conversion. If needed, you can adjust the parameters of the future copy or skip settings leaving them as by default. Mention that Total Outlook Converter allows conversion in batch. You can convert either one or more files at a time, combining them into one file or convert them separately.
If you feel hard when using information in vCard format, you can export it to the one you prefer with the help of Total Outlook Converter. Download it right now!
Windows Vista/7/8/10/11