If your Thunderbird keeps emails in MBox single file storage, the most of converters will be useless. Total Thunderbird Converter supports this format of email source and can extract messages from Thunderbird to EML. In this format emails can be easily imported to other mail clients (i.e. Outlook). Also it will be easier to share emails as attachments to other emails.
Converting information into any suitable format gives freedom in using it. This is what this program is created for. This Thunderbird converter can export messages from MBox to a lot of other file types: EML, PDF, TXT, HTML, XHTML, TIFF.

The data from Mbox format can be adapted for any kind of use, being exported into image, document, web page or another mail format. In order to convert Thunderbird email to EML, go through this small instruction:

Open your Total Thunderbird Converter;

Select mailbox folder and source emails;

Click on EML on the top left bar;

Choose location and file name template;

Press Start!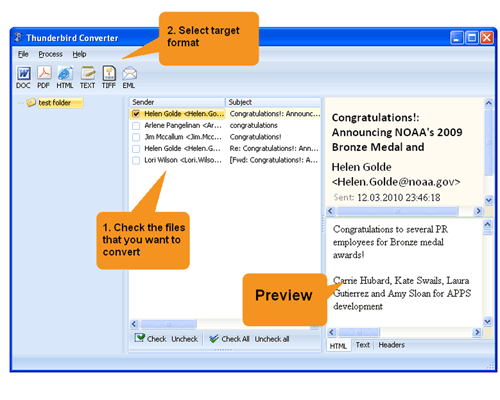 You will see a reduced range of options in settings wizard, when converting a single Thunderbird email to EML file - there will be no 'file name template'.
In EML conversion processing attachments is not available. But if you choose other formats, you will be able to extract attached files. In standard Total Thunderbird Converter it is possible to insert attached images into the converted mail or convert attached email to the same format. Total Thunderbird Converter Pro can convert or save any type of attachments. It also allows naming them according to a name template that user specifies in settings.
You can try standard Thunderbird Converter version for free. It is a powerful package for MBox conversion with a great value and 30 days trial period.