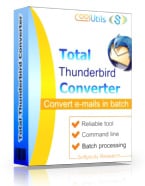 Windows
2000/NT/XP/2003/Vista/7/8/10/11
If you need to remove some of your emails from Thunderbird folders but would like to have an ability to review them from time to time, convert them to PDF. It will be stored on your hard drive separately from Thunderbird mailbox. You will have an ability to view your emails in any PDF reader. You will need an email converter that supports Thunderbird client and can export emails to PDF. Total Thunderbird Converter is exactly the app you need. It easily converts Thunderbird emails to PDF.

It works very simply. All your up-to-date email history is displayed Thunderbird converter as the utility is synchronized with your mail account. So you can process even the newest letters coming to your inbox.

The whole conversion adds up to a few simple actions:
First you need to specify sources for conversion. This can be one or more emails depending on your needs. The program supports batch conversion.
If you want to convert Thunderbird emails to PDF, click on 'PDF' button in the format bar.
You will see settings wizard popped up. Here you can leave everything as it is or set specific parameters for conversion.
Click 'Start!' and in a moment you will get your emails converted to PDF.
When processing dozens of emails, it is convenient to have a fast-working converter. Total Thunderbird Converter is the fastest one you can ever use. After conversion is done, a folder with PDF copies opens automatically, so you can see the result of your actions immediately.

The converter has in in-build email viewer, it is very convenient to view letters when sorting out those that should be converted. It also can convert emails from Thunderbird via Windows command line processor. A very useful feature for using converter in background mode.

Take advantage of using Total Thunderbird Converter fully free for 30 days. Be free to download it with no need to purchase license code immediately.