Total Thunderbird Converter converts Thunderbird emails into MS Outlook PST or EML file format as well as other popular platform-independent formats (PDF, DOC, TXT, etc.). This program is an ideal option for those who would like to migrate from Thunderbird to Outlook. This program has a number of features, which make users want to purchase this program right away:

Total Thunderbird Converter works fast. It packs all your Thunderbird emails or MBOX files into a PST file which you can easily import into Outlook.

Thanks to batch function, you can convert Thunderbird to PST in large groups and thus save a lot of time and effort.

Need a command line option? There is no need to learn all the params. Just make all the setting in the GUI and the app will automatically crate a ready-to-use BAT file!

Finally, the program converts emails with all email metadata intact in output PST files, such as Sent & Received Date, Attachments, Read and Unread status, etc.

How to Use This Thunderbird to PST Converter
Run the interface and navigate the folder tree. Click on the folder (Sender, Recipient, etc.) and view the list of emails. Check the one(s), which you want to save in the PST format. To apply the batch option, press "Check all".
Select PST and use the wizard to set up your output PST files.
Select destination for your output PST files.
Apply your preferred file name template.
Specify fields, which you want to include into your output PST files: Sender, Subject, Recipient, Inbox, etc.
If you want to save attachments as well, tick the respective option.
Click the "Start Conversion" tab and go through the settings you have just
Press "Start!" to actually convert your emails to PST.
Total Thunderbird Converter is quick and powerful and it will not take long for it to process a large batch of emails.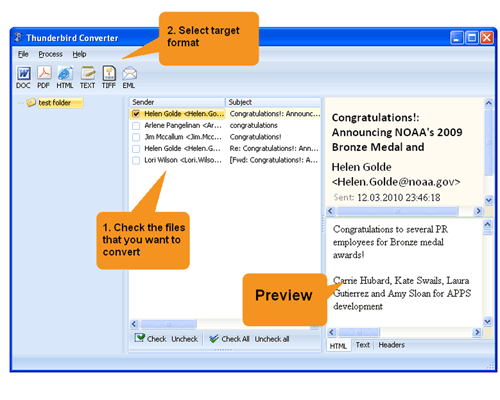 You do not need to purchase this program just to test its functionality. Download the free version and use the 30-day trial period to fully assess its capabilities.