Converting emails to PDF format can be a problem when you need to choose the right software to do the task. It's where more is worse. You can export Thunderbird emails to PDF using different programs which convert messages one-by-one. So you will need quite a lot of time to process tens or hundreds of emails. In this situation there is no better helper than Total Thunderbird Converter Pro. This program has a few advantages that single it out from the rest, namely:

Converting emails from Thunderbird to PDF in batch;

Converting attachments in different ways;

PDF security options;

Stamp Bates

Adjustable PDF appearance;

Integrated email viewer.
There is no any other mail converter that can process attachments as Total Thunderbird Converter Pro. The rest of the programs simply extract attached files from the mail storage and save them to a folder. This Thunderbird converter can convert attached docs to PDF, unpack attached archives, insert attached images to the converted mail copy and even adjust their dimensions to the page size. This smart approach will help to save full data integrity when converting mails.

The process of conversion will take a minute, and no matter how many messages you wish to process.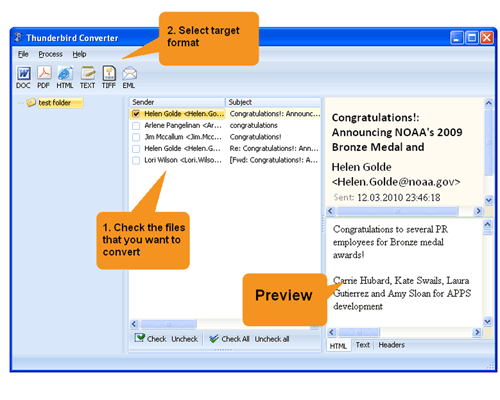 The program connects to your Thunderbird automatically and shows all mail folders on the left side. You only need to go to the right folder and select messages that you'd like to export to PDF. You will see a row of format icons on the top of the window. Press 'PDF' there and go further with the format settings. Settings are optional, no need to touch them, if you don't need any specific formatting or security measures. After finishing settings press Start! and get your PDF copies ready.
Get this email converter to create PDF copies of important mails, and you will always keep this information protected from any damage.