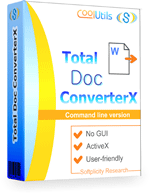 Windows
2000/NT/2003/Vista/7/8/10
Interface Languages
When you need to provide multiple users with the ability to convert MS Word Docs into text, images, or table format, the Total DOC Converter X is exactly what you need. Because Doc Converter X is installed on a web server, it's possible for lots of users to run lots of conversion jobs all at once. Whether you choose to make it accessible to your entire network, or use it as a stand-alone application, the Total DOC Converter is the #1 solution for all your document conversions.
Supporting a wide range of formats, Total DOC Converter X covers all your DOC export needs. Convert Word/DOC/DOCX/DOCM/TXT files to PDF, XLS, HTML, JPEG, TIFF, RTF, TXT and Unicode TXT formats. Free of GUI or interrupting messages, the Total DOC Converter X lets you send instructions via direct access to the command line. This feature is perfect for server admins, or anyone looking to run quiet behind the scenes operations. You'll even have the option to create complex sets of instructions and let our converter process the job automatically.
To add automatic conversion functionality, simply install Total DOC Converter X together with Total Folder Monitor. This lets you track files as they are placed into specific folders, and convert them on a regular basis; automatically.
Total DOC Converter X supports ActiveX in a way that lets you integrate it into a web interface. This feature can help to make the converter a part of existing web applications or provide conversion services online.
Adjust the conversion process according to your needs. With so many great options included, the Total Doc Converter X is a highly customizable, flexible tool that is certain to save you both time and money! Discover more options.
If you'd like, give the program a try through our free trial version. You'll have 30 days to experience first hand how helpful our converter can be. When you decide to upgrade, you'll receive a lifetime license, access to our tech support team, and all updates are free during the first year.
| | | |
| --- | --- | --- |
| | | |
| | | |
Examples

Brandon Belma
"Up to now, Total Doc ConverterX is doing the job correctly, that is converting Doc files to PDF files using command line within a Windows scheduled task, if I would have any problem I will certainly contact you. Thank you for the product."
List of supported conversions:
Doc to PDF Command Line
Doc to HTML Command Line
Doc to Text Command Line
Doc to TIFF Command Line
Doc to JPEG Command Line

DocX to PDF Command Line
DocX to HTML Command Line
DocX to Text Command Line
DocX to TIFF Command Line
DocX to JPEG Command Line

Word to PDF Command Line
Word to HTML Command Line
Word to Text Command Line
Word to TIFF Command Line
Word to JPEG Command Line
Among the most useful advantages of Total Doc Converter X are the following:
Compatibility with any version of MS Word files: the program supports Doc, DocX, DocM, formats, as well as TXT, RTF, ODT, etc.
Support of batch conversion: you can convert all Word files by executing one single command.
Adjustable paper format for every target format: make the converted copies suitable for printing on specific paper.
Ability to compress converted copies when performing conversion to graphic formats: a range of supported compression modes and adjustable graphic quality will help to get the optimal size/quality ratio.
Converted copies can be combined into one output file or stored separately (each source in separate file).
Support of PDF encryption, digital signature and watermarks for proper data protection from unwanted changes and unauthorized access.
Total Doc ConverterX requires the free Office Converter Pack. You need to install office converter pack under all accounts you use. Go to Control Panel-Services, select your web server IIS\Apache. Go to Properties (right button mouse click) – Log On page. Select Allow Service to interact with desktop. Try to convert your files. The popup window will suggest you installing Office converter pack. Install it. After the installation you may go to Services and uncheck Allow Service to interact with desktop.
Articles

Total Doc ConverterX tailored to YOUR needs.
If you have a special requirement
If you want additional options
Contact us. We will gladly enhance our doc converter so that it fit your needs perfectly. Customization is often free to our customers.
What do you think about this program?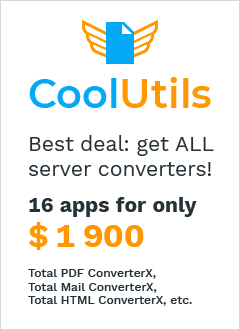 Key Features
A set of converters in one (doc to pdf, doc to html, doc to xls, doc to jpg, doc to tiff, doc to txt)
Now can convert RVF to PDF, Excel, HTML, JPEG, TIFF, RTF, Text.
Command line - no GUI
Batch conversion
ActiveX
Encrypts final PDF files