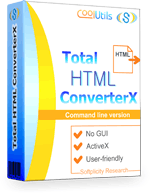 Windows
2000/NT/XP/2003/Vista/7/8
Total HTML ConverterX (SDK) converts HTML to DOC, XLS, PDF, TIFF, JPG, RTF, TXTW, or Text files on a web-server. This is a multi-user version of desktop Total HTML Converter that can serve as a client-server application in local network or a web service for users online. The utility is installed on a web server and serves for performing conversions coming from many users.
Total HTML Converter X (SDK) includes command line converter and ActiveX. Other useful options are the following:
Together with ActiveX it can be built-in into a web user interface and become available for using online.
The converter recognizes all HTML tags, including page break control with CSS styles (CSS 1, 2).

Total HTML Converter supports IE headers and footers (i.e. date, time, page count, etc.). You can also add any watermark to the output document.

Total HTML Converter X can extract metadata from your files so that you can easily put it in any database or table.

The program can automatically fit HTML width to the chosen PDF page size, which is essential for printing HTML tables. Moreover you can add a digital signature to the output PDF. More..
If you would like to check how Total HTML Converter X works before ordering a license, download a free trial version with full pack of features.
| | | |
| --- | --- | --- |
| | | |
| | | (only $150.00) |
Examples
"Why I chose Total HTML ConverterX. There were a couple of reasons. First, you were able to provide some functionality that we needed that other converters said they were unable to do (including the ability to have the same headers on each page, and not splitting rows across pages). Secondly, you were very supportive and responsive to our requests even before we had purchased the product. Third, you were wiling to make pricing adjustments on the second royalty-free license when we explained our situation (we've made similar adjustments to help our customers as well, so this was VERY much appreciated!). Fourth, you just seemed very customer-focused and I got the sense that you wouldn't ignore me once we purchased the product (and I was right -- the customer service has been great!)"
List of supported conversions:
Need HTML conversion feature in your app?

Get a royalty-free license. It allows you implement Total HTML ConverterX into your software and redistribute it.

RFL is licensed per project (no matter how many developers are involved).

Apply via contact form.
Total HTML ConverterX provides a wide range of useful conversion options
You can extract text information of HTML pages separately from the rest of content in order to exclude images, if they are non-important. In the same way you can extract images from HTML sources, or convert all the content together, saving the original layout.
Total HTML ConverterX allows inserting headers and footers into the output copies, with possibility to add tags into them (page numbering, document title, etc.)
You can enable watermark protection of the output copies to eliminate unauthorized use of converted materials.
Using command line parameters you can set paper size, orientation, margins, etc. to fit the desired page size and layout.
You can add background image to the converted copies, when convert HTML to image formats like TIFF or JPG.
By applying compression for converting HTML into image formats to cut the copies in size, saving the memory space on your computer or web server. It is entirely important, if you deal with a lot of files in limited memory space.
You can encrypt PDF copies in order to restrict access (essentially important in multi-user systems).
Articles

Total HTML ConverterX tailored to YOUR needs.
If you have a special requirement
If you want additional options
Contact us. We will gladly enhance our html converter so that it fit your needs perfectly. Customization is often free to our customers.
Customer Reviews
Jason Stewart Chief Technology Officer

April 01, 2014
So far so good with the product. We are just starting to work with it and have not had any problems as of yet. Though when we development with the product installed on our development machine and try to deploy out product, it did not work. It looks like our product worked once we installed the full SDK on the target workstation instead of simply referencing the .DLL.
Antonio Rivera

February 16, 2014
I use the HTML converterX to simply generate pdfs in landscape on the fly. I have tried about 5-6 other products along with yours and found your software to be the best at generate pdfs out of html pages efficiently, accurately, and most importantly fast.
What do you think about this program?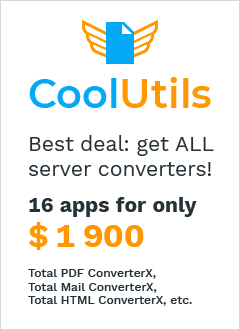 Key Features
Runs on web-servers
No GUI or interrupting messages
Converts HTML to DOC, RTF, HTML, TXT, PDF
Batch conversion
ActiveX is also available
Dynamic page breaks with headers and footers
Specifies HTML from URL, or local file
Preserves original document layout
No need for Adobe Acrobat or MS Word
Supports different charsets and encoding tables