3GA audios are supported by Nokia, Samsung and other mobiles, but are not suitable for PCs and portable players. If you need to make your 3GA tracks playable anywhere, the best solution is to convert 3GA to MP3. Total Audio Converter supports both these formats and can perform such conversion in a very quick manner. It's just one of numerous conversion modes it offers. You can also convert 3GA to WAV, OGG, WMA, FLAC and other formats.

One of the biggest advantages of this cell phone converter is a batch conversion support. You can export as many 3GA files, as you want, combining them together or creating separate file copies in a new format. Another big plus is adjustable settings. For converting to MP3 this audio converter offers the following settings:
Samplerate
Bitrate
Channels
Combine all (for batch conversion)
Part (for single conversion)
You can also automatically add the converted tracks to iTunes library by checking the appropriate option in the settings wizard. All these options are not compulsory, use them at your own discretion. You can convert files in 3GA from phone to MP3 without resaving sources to a hard drive. Just connect your phone to a computer and select the memory card folder in the navigation tab. The program will show its content. After specifying source files press the 'MP3' button and go through settings in the popup. After this click the 'Start' button, and you will get the files converted.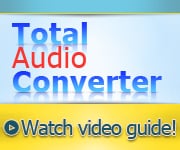 This is how to convert 3GA to MP3. The process is similar to any target format, and the only difference is the format settings. Total Audio converter also supports command line. You can convert files from cell phone by text command in the computer console.
Total Audio Converter is available in a 30-day free test version. It features full pack of options and processes 2/3 of source audio track which you can listen to assure yourself of the quality of the conversion. Try it!