WAV is a short name for Waveform Audio File Format, a Microsoft and IBM audio file format designed to store and play music files on PCs and laptops. Just as many other audio formats, WAV is not supported by Apple products, which have become so popular lately.
One of the formats that Apple software and devices support is AAC. AAC stands for Advanced Audio Coding and is a compressed audio file similar to a MP3. This format is characterized by a higher coding efficiency, a simpler filterbank, and better handling of frequencies above 16 kHz. AAC format is the default encoding used by Apple iTunes and the iTunes Music Store.
If you want to play WAV audio on Apple devices, you should to convert WAV to AAC. The easiest and most efficient way to do so is use audio converter. Certainly, you can try WAV AAC converter, but it is guaranteed to have limited functionality. Audio converter, like Total Audio Converter by CoolUtils, is guaranteed to be efficient, multi-functional and safe. The process of conversion is very simple and quick, regardless of the level of your computer knowledge.

All you need to convert WAV to AAC is download Total Audio Converter. The program is available as a trial on the official website of CoolUtils. Then, you will be asked to complete the simple installation process and launch the program as usual. Then, you will have to select WAV audio files from the list automatically generated by TAC and set AAC as the target format. The conversion process, which is fully automatic, will take only a few moments, depending on the amount of files being converted.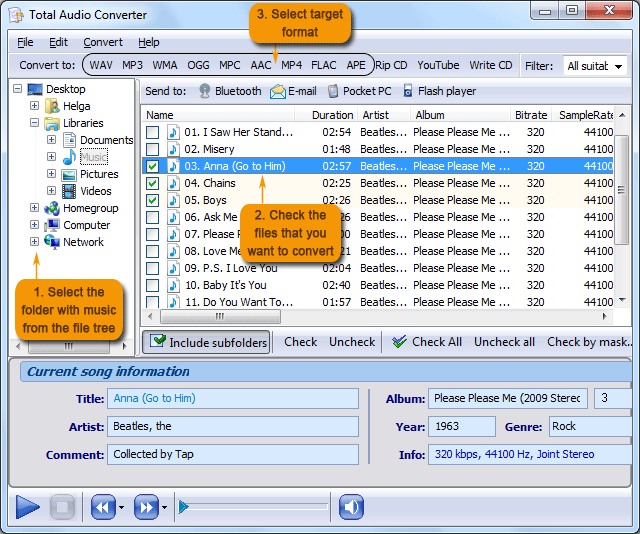 Other uses of Total Audio Converter:
Batch conversion of audio files with the help of batch conversion option enabled in CoolUtils converter
Listening to music in the music player built in Total Audio Converter
Ripping compact discs with the built-in CD ripper
Downloading audio files from YouTube videos
Get the latest trial version of Total Audio Converter now!