| | | |
| --- | --- | --- |
| How to Convert WAV to MP4 | | (only $24.90) |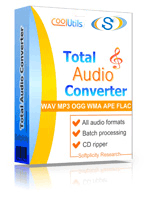 Windows 2000/NT/XP/2003/Vista/7/8/10/11
Interface languages: English, Spanish, German, French, Russian, Dutch, Swedish, Italian, Portuguese, Czech, Japanese, Chinese, Korean
Do you want to convert WAV files to the MP4 format? Then you've come to the right place! The Total Audio Converter app lets you switch WAV to MP4 and a variety of other useful audio formats. You don't need to be a Web designer, video editor, or sound engineer to benefit from having WAVs converted to MP4. Our user-friendly audio conversion app is designed to give you complete control over your audio files quickly and intuitively.
To get started, follow these five easy steps:
First, open the Total Audio Converter app.
From the list of available files, folders and drives, click the box next to each WAV file you plan to convert.
Next, click the MP4 icon located in the format toolbar. This will take you to the Convert to MP4 option window.
Here you can opt to combine multiple WAV files into a single album, and control bitrate (VBR) quality.
When you're ready, click the Start conversion tab followed by the Start button.
Changing your audio files from the WAV format into MP4s has never been easier!

And there's more! The Total Audio Converter app is a flexible tool designed to provide you with an abundance of options. Along with helping you convert WAV to MP4, you'll also be able to:
Rip your projects to CD.
Convert lots of files at once in batch.
Set custom sample rates.
Select audio channels.
Work with both constant and variable bitrates.
Separate and extract YouTube audio.
Create reports with custom details about your audio collection.
Listen to files using the built-in audio player.
Handles a range of audio formats: MP3, WMA, OGG, AAC, FLAC and more!
Download your FREE trial copy today and see what you think. We're certain you will agree that this is one very cool utility! For more information, check out the video below:
Related topics
Convert Opus to WAV with custom settings
Convert WAV to AAC with custom settings
Use FLAC to WAV with many handy options
Convert WAV to mp3, convert WAV to mp3, WAV to mp3 converter, WAV to mp3 conversion, software