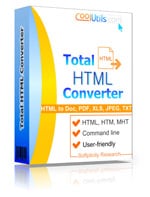 Download
Windows 98/2000/NT/XP/2003/Vista/7
Interface languages: English, Spanish, German, French, Russian, Dutch, Swedish, Italian, Portuguese, Czech, Japanese, Chinese, Korean.
Enabling programs is the most frequent and resource-intensive operation for PC. If you need an HTML converter that doesn't overload your system, try Total HTML Converter. This utility offers convert HTML command line mode, when it is enabled within standard Windows command, with no need to spend time and resources on handling conversions via graphic user interface.

Total HTML Converter supports eight graphic and text formats for exporting HTML sources. Within one single command you can do the following:
Turn any HTML page to image or text document of specific format
Process any number of HTML files in one conversion: no need in repeatable actions
Convert all HTML file into one image or split source file into a few images of predefined paper format
Set header, footer and watermark to converted files of both text and image formats
Render separately text and image content of HTML files when converting them to PDF, XLS, JPG, TIFF, TXTW or RTF.
All these features are set in simple convert HTML command line parameters described in Help menu of Total HTML Converter. It is an easy to use and extremely fast way of getting converter HTML files in background mode. You will need only a few seconds to get used to this converter and find required parameters for adjusting proper conversion mode. Any feature available in user interface can be also used when handling the program from the command line. For example, to convert all HTML files from 'Source' folder to PDF format you need to write the following command into your cmd line:
HTMLConverter.exe C:\Source\*.htm C:\Converted\ -cPDF
Additional convert HTML command line parameters allow you to delete originals after conversion, set specific paper format, compression type and other advanced options.
You can get Total HTML Converter right now using Download button. You will get a free trial that you can upgrade to licensed whenever you need.