Is your trial date quickly approaching? Do you desperately need a secure eDiscovery solution for emails? Total Mail Convertor Pro is the most secure, efficient, and user-friendly app to convert emails to PDF or TIFF. All you have to do is place the order, receive the license, and start converting your emails in less than 3 minutes.
The only eDiscovery Software that converts attachments
Total Mail Converter Pro will take your eDiscovery to an entirely different level. With the one-time license purchase, you will be able to take all the emails, including each attachment, and convert them into PDF or TIFF. The attachments will be converted regardless if they are a PDF, Word Doc, TXT, HTML, HTMLX, TIFF, RTF, as well as JPEG and TIFF. Embed attachments into output files or save in their original file types with a clickable link. Everything will be conveniently processed, where you are able to search each component to each email at once.
This Mail Converter Pro provides accurate data, allowing you to find immediate answers
Our proprietary technology is extremely accurate during output. No data will be lost. Most competitors handle Latin languages well enough, while we support non-Latin languanges as well. Be your emails written in Arabic or Hindu, you will get the exact copy of it in PDF or TIFF. In minutes you will get the document that is easy for you to search, evaluate, and assess.
Custom features and options only add time back on your side
Our app is extremely flexible, allowing you to tailor and edit the output to fit the details you are looking for. While there is a wide range of options, here are a few of its most popular features:
Bates stamping
Watermarks and/or Company Logo
Page Numbering; Time and Date Stamping
Adjusting fonts and magins
Ability to mark legal notes as CONFIDENTIAL
The clear, user-friendly interface was built with you in mind We know you have a lot of information to sift through, compile, evaluate, and share. You don't have the time to learn an entire new program. We kept this and your time in mind when it came to designing our app. The interface is great, and includes step-by-step settings and video tutorials.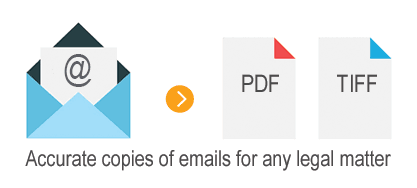 The interface is also designed for you to search through thousands of emails at once by any key word. We wanted to create the most helpful, time effective tool, and our interface has been key to that success. Total Mail Converter Pro runs fine on Windows Vista/7/8/10/11.
Our clients say:
"I'm overall pretty happy with the product. Very easy to use and worked well in our litigation process."
Cyrus Naim
Law Offices of Cyrus S. Naim
www.naimlegal.com
---
"I am very pleased with the program - it has saved me time already on a project where I need emails to appear in pdf. I had a small glitch when I first purchased - it wouldn't accept my registration number, but I emailed the help desk, followed their advice and it worked out fine. Overall I am very pleased - thank you!"
Dare DeLano
The law firm of DeLano & DeLano
www.delanoanddelano.com
---
"I used the program to convert batch .msg files to PDF. The program works pretty well."
Cheryl Chen
Los Altos Intellectual Property Attorney
www.lilaw.us