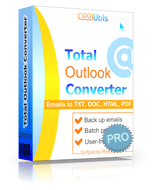 Windows
2000/NT/XP/2003/Vista/7/8
Too many emails in Outlook slower your work. The best way to solve the problem is to convert Outlook emails with attachments to PDF, DOC, RTF, TXT, HTML, TIFF in batch. While other email converters boast to process emails, they do only half the job leaving attachments in the original formats. Total Outlook Converter Pro goes the extra mile. It converts both emails and attached files. We have been developing file converters since 2003, that's why we have powerful resources to support almost all popular file formats.
Total Outlook Converter Pro converts emails from your Outlook account or any PST or OST file on your hard drive to to PDF, DOC, TXT, HTML, HTMLX, TIFF, JPEG, EML.
Attached files in DOC, TXT, RTF, PDF, HTML, XHTML, XLS, PPT, TIFF, JPEG, BMP, PNG formats can be converted to PDF, DOC, TXT, HTML, HTMLX, TIFF, JPEG, EML.
Total Outlook Converter Pro is very flexible. You select what email fields you want to export (date, sender, recipient, subject, body). In addition, you can add a date or a counter and tune the way your final file will look like.
The program will rename your converted emails according to any macro adding a date or sender or subject to the file name. More..
The program features a clear interface with step-by-step wizard. It helps you make all the settings. Total Outlook Converter Pro is your safe choice to convert Outlook emails. We offer a free trial version which is valid for 30 days. When you purchase your license you get 1 year of upgrades and tech support for free. No hidden costs.
| | | |
| --- | --- | --- |
| | | |
| | | (only $99.90) |
Screenshots

"I only convert Outlook emails and never tried OST and PST files. At least it worked fine when I did use (definitely cannot say that about a lot of other Outlook converters out there)."
List of supported conversions:
Outlook to Text with Attachments
Outlook to HTML with Attachments
Outlook to XHTML with Attachments
Outlook to JPEG with Attachments
Outlook to RTF with Attachments
Outlook to XPS with Attachments
Outlook to EML with Attachments

Batch PST Converter
PST to Text with Attachments
PST to HTML with Attachments
PST to XHTML with Attachments
PST to TIFF with Attachments
PST to JPEG with Attachments
PST to RTF with Attachments
PST to XPS with Attachments
PST to EML with Attachments

Batch OST Converter
OST to Text with Attachments
OST to TIFF with Attachments
OST to JPEG with Attachments
OST to RTF with Attachments
OST to XPS with Attachments
OST to EML with Attachments
What do you think about this program?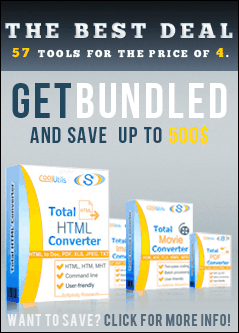 Key Features
Converts Outlook emails with attachments
Attachments can be converted to DOC, RTF, TXT, HTML, HTMLX, JPEG, TIFF, PDF.
Attachments can be saved as new files with new descriptive names
Built-in batch email renamer
Adds date or page counter to converted emails
Can convert Outlook contacts to vCard
Supports contacts, tasks and meetings