Advanced digital tools transform Outlook emails into a popular format. However, the conversion of attachments is still rare. Tailor-made software can cope with any volume of data and deliver an impeccable result in no time. Discover how to convert Outlook PST files to PDF with attachments smoothly.
Users often need to archive correspondence, including any enclosed files. This streamlines workflow and communication.
With a comprehensive PST to PDF format tool, you will also transform these additions into documents. Even hundreds of files are handled fast. Batch PST processing is a great way to convert PST files that comes as attachments.
Why Convert Your Outlook PST File to PDF?
You might need to Convert PST to PDF format for various reasons. Here are some of them:
Users cannot view PST files unless they have Outlook PST installed.
PDF files' portability makes it easy to move data in a way that PST files cannot.
PDF file formats can be viewed on multiple platforms, which PST files cannot do.
To secure sensitive data, you can encrypt PDF files but can't encrypt PST files, which would necessitate a conversion.
Method 1. Convert PST to PDF with Attachments by Coolutils Software
Using our
Outlook PST Converter
, you can transform your PST to PDF with attachments in just a few clicks. Its user-friendly interface with rich customization guarantees 100% accurate and convenient transformation. Master email conversion in a couple of minutes! After the parameters are set, the utility can apply them to every new conversion automatically.
Step 1. Locate the Source File (PST)
To convert PST to PDF, open the converter. You will be prompted to select the PST file. If Outlook is installed on your computer, the utility will connect to it automatically and display the available files.
On the left-hand side of the screen, you will see a folder tree with the contents of your PST file. When you click on any of the folders (e.g., Inbox), the messages inside of it are shown in the middle panel. You can preview any of the items.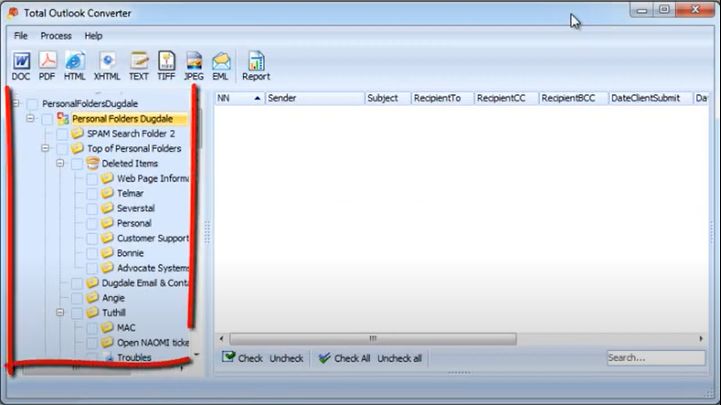 Step 2. Select the Emails
Click on the "Check All" button to convert PST files with attachments within the folder, or select them individually.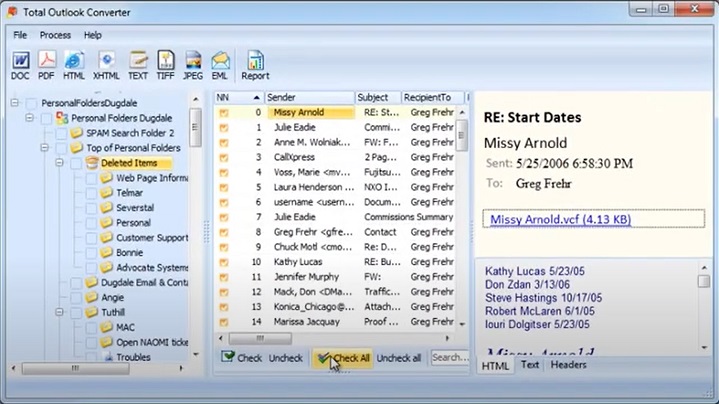 Step 3. Set the Parameters
Specify the target format (PDF format) by clicking on the corresponding button on the ribbon. This will open a wizard with multiple sections so you can fine-tune the result. After each of the sections, click Next.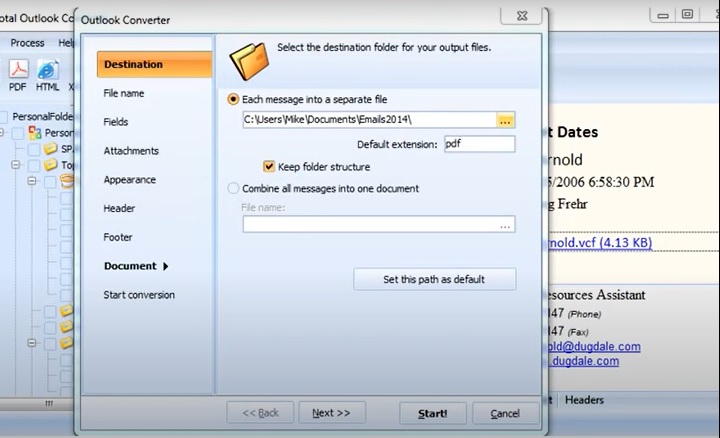 In the "Destination" section, you need to select the location and choose the saving mode: creating a separate file for each message with attachments or combining all of them into one multi-page PDF document.
In "File name," you can rename the output files. You can go with the descriptive name template or change it by adding or removing any macro.
In "Fields," select the message fields to incorporate in your PDF document. The options include the senders and recipients, including CC and BCC, the date, subject, and body. If the emails were sent from different time zones, you can unify the format by checking the "Show date in UTC" box (Universal Coordinated Time).
In "Attachments," tell the program what you want to get as a result of transforming Outlook PST to PDF with attachments. You can save the latter to the same folder, insert attached images into the document, etc. Find out more below!
The "Appearance" section is used for standardized corporate documents.
The "Header" and "Footer" sections allow you to add these elements with adjustable position, margin size, fonts, colors, and other options. You can insert a page counter, the current date, file name, the "confidential" category, other suggested options, or your own text.
In the "Document" section, select the size of the pages, their orientation, margins, fit-to-page, compression settings, and other features.
Step 4. Launch the Conversion
Now, all you need to do is click on the "Start" button and wait for completion. In the end, you will see a "Process completed" window. It will also allow you to save the process details (log) if necessary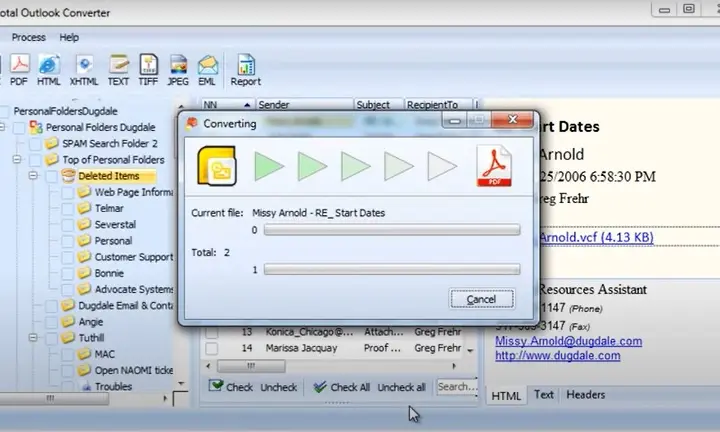 Attachments Options
In the "Attachments" section of the wizard, you can set the parameters for processing, including saving into a new folder, unpacking, insertion of images, and more. Transform your files with impressive precision! Here is what you can do: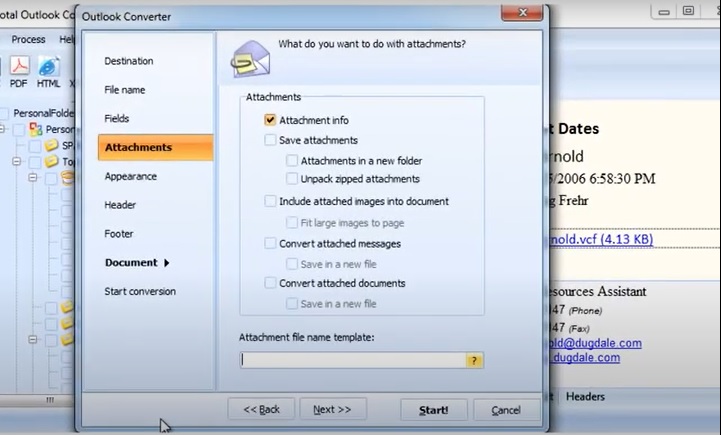 Add attachment information
Attachments can be saved to a new folder with or without unzipping the zip files (give them easy-to-recall names in the "Attachment file name template" space to easily find them when you are done).
Include any associated photos in the document and, if they are big, resize them to fit the page.
Even if you do not save attached messages to a separate file, conversion is still possible (the Pro version also allows you to convert PST files).
How the Converter Works
The Total Outlook Converter is by far the most convenient solution to store emails with attachments. Simply install the program, launch it, choose your settings, and let the conversion begin. The generated files will be neatly placed in the selected converted files folder. The sheer number of customizing choices will undoubtedly be a welcome addition. You can change the parameters to make PDFs display better than emails with attachments! Check out the following options for quick PST to PDF format conversion:
Convert PST to PDF (unique!);
Merge Outlook emails into a PDF;
Export based on field information (emails can be sorted based on date, subject, sender or receiver, etc.);
Paginate and add dates to your files;
Adjust page size and margins;
Compress in a variety of levels;
Add custom watermarks (e.g., "confidential");
Add Bates stamp/labels/numbers;
Rename files easily and add descriptive naming to locate them easily;
Receive multiple output formats, including PDF/A and non-searchable docs when converting PST to PDF format.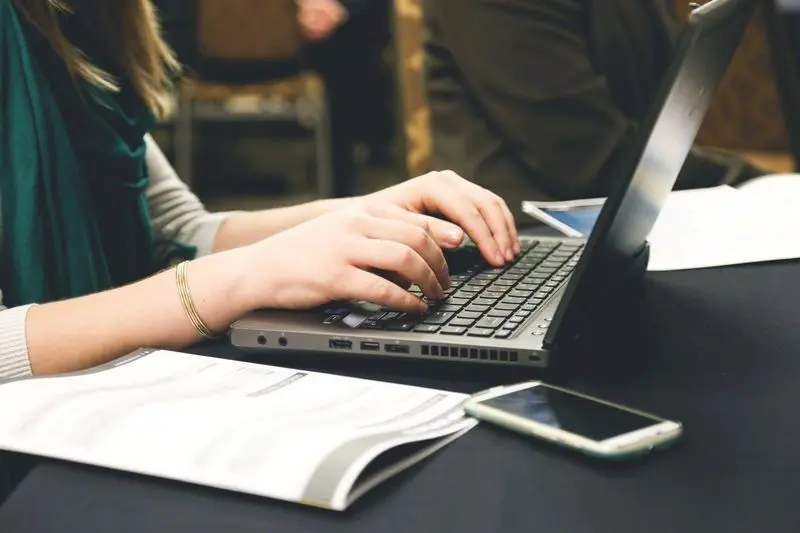 The utility works on any popular version of Windows (from XP to 10). It has a free trial period and comes with a range of license options: for personal and commercial use, as well as server and developer options. Its all-around compatibility makes it suitable for everyone!
The output is also highly customizable. Conversion of an Outlook data file to PDF with attachments is not the only function. The same system will transform your mail data from PST to DOC, TXT, HTML, JPEG, XPS, and more! Whatever the format, the process is always smooth.
The converter is used by beginners and pros, as it is efficient and easy to use. This ultimate PST to PDF solution suits a wide range of needs, from data migration to the collection of evidence for legal investigations. If you have only a little data to transfer, try our free PST to PDF online service.
Method 2. Adobe Acrobat Pro Software
Adobe Acrobat Pro DC is a more expensive but effective technique to convert your emails with attachments. After installation, users get a new plug-in for the Outlook PST interface that allows file conversion.
Launch Outlook PST and choose the ribbon menu button that launches the Adobe PDF tab.
Select the messages to be converted.
Click on "Selected Messages" and create a new PDF file format using the drop-down menu.
A new tab will open, so users can choose the destination and name the file.
To obtain the converted file, click the "Save" option.
Some of the options you get include saving your results to an existing PDF file using the "Append to existing PDF" and turning every new email into a PDF file format using the Automatic Archival feature.
Method 3. Online Converters
Finally, you can use a multitude of online converters to convert your PST files to PDF format. This option is only appropriate for the most basic tasks that do not require any modifications to the format or other factors.
While many tools may process your emails, they will typically not batch convert PST to PDF with attachments.
Key Features of Best PST to PDF Converter Tool coolutils.com
You can bulk convert PST to PDF format in seconds (depending on file size).
The solution provided is secure for exporting PST to PDF with attachments.
You can keep all the email attributes and properties when you export PST files to PDF format.
The interface is easy to use, even for beginners.