| | | |
| --- | --- | --- |
| Convert EML to PDF | | (only $59.90) |
Some people prefer to convert EML to PDF for future reference. It makes sense as they will be able to store emails outside the email client and open them on almost any computer. If you use an EML based email client (i.e. Thunderbird, Windows Live Mail, Windows Mail, The Bat, Outlook Express) you can export emails as EML files. Once you have EML files on your hard drive, launch Total Mail Converter, browse for your folder with emails and press PDF button. In few minutes the program will convert EML to PDF.

Interface languages: English, Spanish, German, French, Swedish, Russian, Korean, Chinese, Japanese.

May I convert EML to PDF Sender and Date only?
Sure. Total Mail Converter allows selecting certain fields that you want to export to PDF.

I want to rename output files adding mail date to the file name
You can easily add new descriptive names to the converted emails with Total Mail Converter. The program offers several renaming macros, so that you could get any name you need. For example, you have an EML file AprilRepost.eml sent on the 28th of April 2013. Using this renaming scheme [date] - [subject] you will get the PDF file 2013-04-28-AprilRepost.pdf.

My EML files contain attachments and I want them to be converted to PDF as well.
No problem! Tick the checkbox Convert Attached Documents in the settings windows and all the attachments will be embedded inside the PDF file. In any PDF viewer this is a clickable link that will open the attachment in its associated program. Attached images can be inserted directly into PDF. Note that the Pro version can convert attachments to PDF files.

Can your mail converter combine several EML files into one PDF?
Yes, Total Mail Converter can convert any number of EML files to one multi-page PDF document.

How do I add a counter to every page of the resulting PDF file?
Total Mail Converter allows adding headers and footers. So you may easily add a page counter to the top or bottom of your document (horizontal alignment is also available). Select EML files, press PDF button and go to Header inlay. Note that the EML converter may add a simple page counter or [page] of [pages] counter.

Can I convert EML to PDF and encrypt the final file?
Total Mail Converter helps you to set user permissions. You may allow or prohibit users to copy, modify, print, or annotate your files. Note that you may also sign output PDF files with your digital signature (pfx file).
Benefits of Total Mail Converter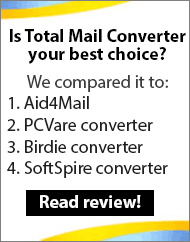 Total Mail Converter is a piece of cake for even a novice user, as every option is readily observable on the interface. It will not take you long to explore menu options either. This program enables you to
convert hundreds of eml files
with just one click of a button. This can be done with the help of the batch option.
Total Mail Converter will save you the routine of fumbling in the clutter of emails (.eml files) that you cannot delete because they contain important business information. Buying Total Mail Converter is the best thing you can do to solve your problem. Considering the greatness of help this tool can give you, the price is almost nothing! This EML converter permits you to export fields on your selection: Subject, Recipient, Body, Date or Sender. The Wizard will offer you parameters, which you can either leave as they are or specify your own.
By aid of Total Mail Converter, you can create encrypted PDF files. This is vital if your files contain confidential business information. The option allows you to set a password and/or specify user permissions and thus limit access to your documents on the stage of formation, so you will not have to go back to it later.
Because many companies choose PDF format as the safest and most compact, it is more likely that you will be required to render your eml messages in PDF. This is no longer a hindrance! Just click and download our registered version of Total Mail Converter! Once you download it, you will get all the upgrades and technical support for free. Feel free to contact us and give us your remarks. We need as much feedback from you as possible, so that we can customize our program to your needs.
Total Mail Converter runs on Windows XP/2003/Vista/7/8/10