| | | |
| --- | --- | --- |
| Export Excel to PDF | | (only $49.90) |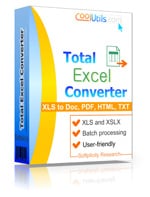 Total Excel Converter is a compact and user friendly file conversion utility that ensures easy exporting of Excel to PDF. By aid of this tool, you can render all types of tables in PDF format in a twinkle of an eye. The program converts the following source formats to PDF: .odt, .ods, .xml, .sql, wk2, wks, .dbf, .tex and .dif. to the following target formats: Word (both Doc and DocX), PDF, Access, HTML, ODT, TXT, ODS, CSV, SQL, XML, Lotus, DBF, TEX, DIFF, LaTeX, SYLK.
The program's robust and simple interface is no problem for even a first-time user. Wizard will prompt you to either leave the settings as they are or specify your own settings. Total Excel Converter can be operated via command line. The program integrates into Windows and, once downloaded, the option Convert to appears in the right button popup menu. This permits you to convert XLS to PDF right from the desktop.
Unique options of Total Excel Converter include:

Converts XLS as well as Excel 2007, XLSM, XLT and OpenOffice formats
Can combine several Excel files into a multi-page PDF
Can convert every sheet of an Excel file to a new PDF file
Produces either PDF, PDF/A or non-searchable PDFs
Adds page numbers or date to the output PDF files
Protects PDF files with passwords
Can sign PDF with your digital signature
How to Convert Excel to PDF
It takes but a few simple manipulations to export Excel to PDF. Run the program and select a folder from the folder list on the left side of the interface. A list of Excel files contained in the selected folder will appear in the file list. Then select one or more XLS files to be converted from the file list and click Convert to. The Wizard will offer you default settings, but you can make your own settings. Click Start to initiate the operation.
Total Excel Converter features a batch conversion mode. This means that you can convert thousands of files with just one click of a button. To do so, select as many files as you need and click Convert to. It will not take much longer for the program to render a thousand of files in PDF than just one file.
Our unique Excel Converter is available online. You can purchase it right now and make your work process go faster and smoother. If you buy a registered version, you will get access to the program's advanced features. You can also download a trial version for free and use it for 30 days without purchasing an activation code. This is a unique opportunity for beginners to study the basics of using Total Excel Converter.
Related topics
Convert Excel-sheets to JPEG images
Excel Converter with user-friendly interface for you!
Convert Excel files Online fast and easy
Convert Excel to XHTML with custom settings
Convert Excel to PCL in 3 easy steps
Convert Excel to Access with comfort.
Convert Excel to SQL with custom settings
Convert Excel to TIFF with comfort.
Convert Excel to TXT with CoolUtils tool!
Convert Excel to XML with custom settings
Convert sheets from Excel to HTML
Convert Excel to RTF documents.