How to Combine Word Documents into Single PDF
Users of Microsoft Office may save any Word document as a separate PDF file. The official plugin will even let you format a bunch of files into one and save the result as a combined PDF. However, the range of options is very limited. If you want to convert your data with impressive flexibility and speed, nothing beats the most versatile tool by CoolUtils. Even thousands of documents can be merged seamlessly.
Convert multiple Word documents to a single PDF quickly, with diverse customization and guaranteed efficiency. Aside from rearranging the files, you can preview and modify their content, protect it from prying eyes, attach MP3 files, prepare documents for e-discovery, and more. Discover the best way to merge Word to PDF below.
Put Multiple Word Docs into One PDF by CoolUtils Software
With PDF Combine, joining multiple files together takes seconds. Check out our demo version to see how easy it is. All you need to do is follow five simple steps. After downloading and installing the software on your Windows (XP, 2003, Vista, 7, 8, and 10 are supported), follow the guide below.
Step 1. Select Multiple Documents
When you launch the program, it shows a list of folders on your machine in its tree structure on the left. Click on the necessary item to view its contents, and tick the boxes next to the files.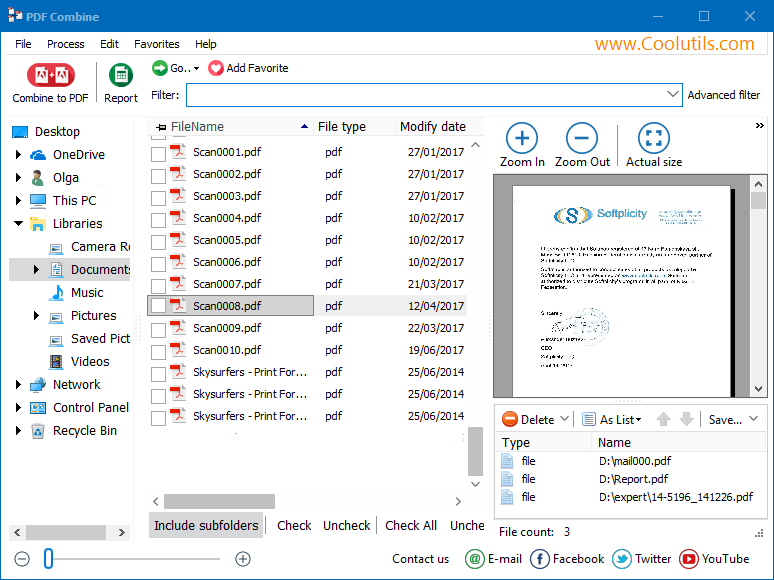 Step 2. Set the Parameters
Click on the "Combine to PDF" button in the upper left corner to access the full range of settings and fine-tune the parameters. Specify the destination and any necessary adjustments.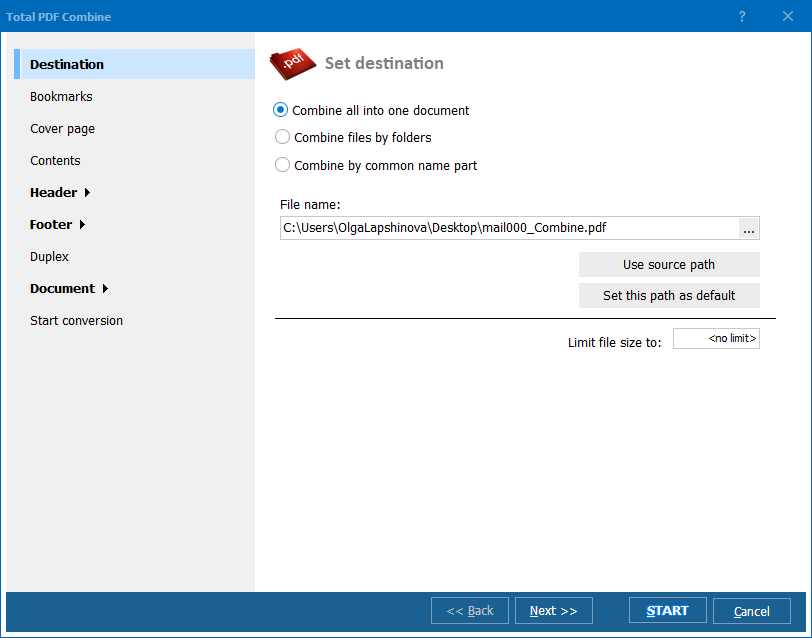 Step 3. Launch the Merger!
Click on the "Start" button to combine the files swiftly and accurately. The utility will merge Word documents into a single PDF.
The wizard allows you to customize the output in a variety of ways. You may add bookmarks, create footers or headers, generate a table of contents, and more! Upon completion, your document will arrive at its specified destination.
Why Use a Third-Party Tool?
If you need to combine multiple doc files with flexibility and precision, PDF Combiner Pro is an optimal choice. It has an intuitive interface and a variety of options. We offer lifetime access, and the full version also comes with a full year of free upgrades.