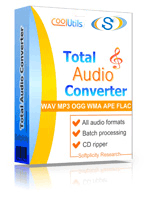 Windows /2003/Vista/7/8/10/11
Interface languages: English, Spanish, German, French, Russian, Dutch, Swedish, Italian, Portuguese, Czech, Japanese, Chinese, Korean
Do you have a large collection of MP3 files? Most of us do. In fact, it seems like nearly every digital audio file these days has been saved as an MP3. And that's fine; MP3 offers high-quality playback when you want to just sit back and enjoy listening to music. What happens though, when you need to use those MP3 files for something other than just listening? With the Total Audio Converter you
can convert MP3 to MP4 and a variety of other more flexible audio formats
!
By following a few easy steps, you'll have those MP3 files switched to MP4s in no time. Here's how:
Begin by launching the Total Audio Converter app.
Referencing your computer's list of available files, folders and drives, check the box next to the MP3 file(s) you'd like to convert.
Next, click the MP4 icon in the main toolbar. This will open the Convert to MP4 options view.
From here you can choose to combine multiple MP3 files into a single album, and control bitrate (VBR) quality.
All that's left to do is click the Start conversion tab followed by the Start button.

As you can see, converting your MP3 to MP4 with the help of our Audio Converter is incredibly fast!
That's not all. With the Total Audio Converter app, you'll gain access to a variety of options and tools designed to give you complete control over your digital audio experience.
Rip results to CD.
Convert multiple files in batch.
Control sample rate.
Specify audio channels.
Choose between constant and variable bitrates.
Generate reports about your audio collection.
Preview audio tracks using the built-in player.
Convert to a wide range of other formats: WAV, WMA, OGG, AAC, FLAC and more!
Don't delay, check it out today! Download our
FREE trial version
.