MP3 is a digital audio encoding format that uses lossy data compression technology. And yet, MP3 is by far the most popular audio format among computer users, who prefer to use it not only for storage, but also for sharing and playback of music files. In addition to the lossy technology used by MP3, this format has another drawback: it is incompatible with Apple devices, which gained extreme popularity lately.
However, there is an easy way to have all your MP3 uploaded on your iPhone, iPad or iPod! Simply download audio converter and convert MP3 to AAC at any time. AAC, or Advanced Audio Coding, is a compressed audio file similar to a MP3. This format is characterized by a higher coding efficiency, a simpler filterbank, and improved handling of frequencies above 16 kHz. AAC format is the default encoding used by Apple iTunes and the iTunes Music Store.
With Total Audio Converter, MP3 AAC converter by CoolUtils, you will find easily and quickly turn any MP3 files into AAC format, making them compatible with Apple devices.

To have files converted from MP3 to AAC, simply complete the following simple steps:
Download Total Audio Converter available for free as a trial version
Install the program following the instructions of the wizard
Launch the program from the command line, by selecting it from the Start menu or by simply clicking on its desktop icon
Select the MP3 files you want to convert to AAC and set AAC as the target format
Click on the "Start!" button and enjoy 100% automatic conversion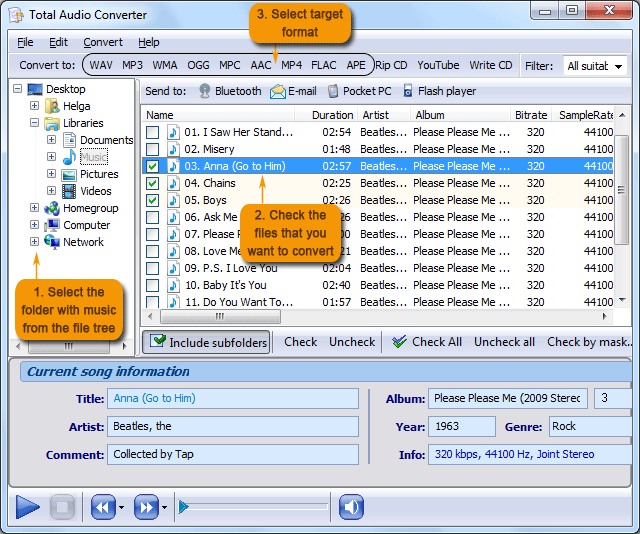 The whole process takes less than 5-10 minutes, depending on the amount of files being processed by Total Audio Converter.
If one day you will want to convert MP3 files into formats other than AAC, you will be happy to find out that TAC supports WAV, MP3, OGG, WMA, APE, FLAC, MP4, AAC, and MPC.
Download the latest trial version now and enjoy Total Audio Converter for 1 month at no charge! Contact CoolUtils to learn more about TAC and other converters.