| | | |
| --- | --- | --- |
| How to Convert CSV to DBF | | (only $59.90) |
Total CSV Converter is a compact and powerful file conversion program featuring an intuitive interface and a handy wizard. It is great to work with, because it converts CSV files in batch instantly. Being an all-in-one solution, it converts CSV to DBF, DOC, PDF, HTML, TXT, XLS, XML and OpenOffice formats. If you work with database on a regular basis, you can use it purely as a
CSV converter
.
About DBF
DBF is a proprietary database format used by dBASE. In DBF files, data is stored in the form of individual records. Each record may contain data elements stored in fields, which are identified by so called primary keys. DBF extension is used for storing various types of product information, personal information, etc. Although dBASE appears to be falling out of use, DBF files can be read via age ACT!, Microsoft Visual FoxPro or Clipper, Microsoft Excel, Microsoft Access, OpenOffice.org Calc and OpenOffice.org Base.
How to Convert CSV to DBF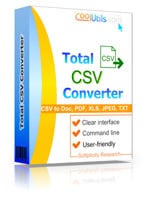 It does not take expert knowledge or skills to operate Total CSV Converter. To convert CSV to DBF, run the program and select a folder with CSV files in the folder tree. Then check the files you wish to convert. By aid of Check All button, you can check all the files in the folder and convert them in batch. When you have specified files to be converted, select DBF.
The wizard will guide you through conversion process. It will help you adjust conversion parameters. The greatest thing about the wizard is its ability to save parameters. In other words, you do not have to readjust your settings every next time you convert.
This converter integrates into Windows. Once you download it, Convert to option will be added to the popup menu. If you need to convert one or a few files to DBF, you can do it from the desktop. Just right-click on a file and select Convert to in the popup menu. Also, you can launch this tool from within any other application via command line.
Total CSV Converter is available online. You can either purchase it right now or use the free 30-day trial version. Registered users will receive free tech support and upgrades regularly. The tool is truly worth much more than you actually pay for it!
Related topics
Get Convert CSV to OpenOffice for less money
Convert CSV to XML in three steps
Convert CSV to HTML professionally
Convert CSV to PDF with ease and smile
Convert CSV to Text and get accurate results!
Convert CSV to XLS with comfort