Word files are usually not exported to some alternative document editors without converting them to another format. In this case RTF is one of the most suitable solutions. There are no problems for exporting one or a few files to RTF inside MS Word, using 'Save as' option. However, if there are many files, the process of their conversion may last too long. To avoid this, you should use Word RTF converter with a batch mode. Just select all files for conversion and convert them in one go.
Such functionality is offered by Total Doc Converter. It can turn Word files to various text, image files or HTML pages.

Using converter in a batch mode is similar, as if it was used for converting a single file. The only difference is that you check off as many files from the list, as needed. In order to convert Word to RTF in batch, follow these instructions:
Form a batch of sources with the help of built-in navigation menu
Press RTF on format bar
In the appeared settings menu specify location for the future files and font format;
Start conversion by clicking on 'Start!' button.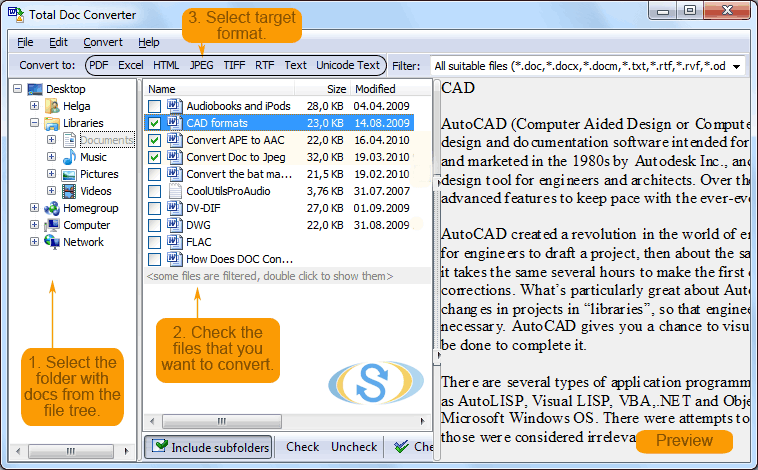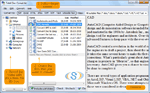 After these actions Word RTF converter will give you ready RTF copies of your Doc originals. If needed, you can delete the originals after conversion automatically, by checking this option in settings menu. The process of batch conversion is simple and doesn't require special skills. You will manage with this task from the first attempt, as the converter will guide you through the whole process automatically.
Moreover, you can use convert Word to RTF command line mode. This feature is suitable for users who prefer managing programs from the command line or need to process a huge number of files in the background mode. You can test Total Doc Converter for free, downloading it from here. Use it for free in 30 days trial version!