To get access to an EML to PST converter free of charge, download the Total Mail PST Converter from the official CoolUtils website.
Install Total Mail PST Converter by following the instructions of the installation wizard.
Launch the PST converter software.
Select the EML files for conversion by dragging & dropping or uploading them to the program.
Set PST as the target file format.
Begin conversion with your PST converter software!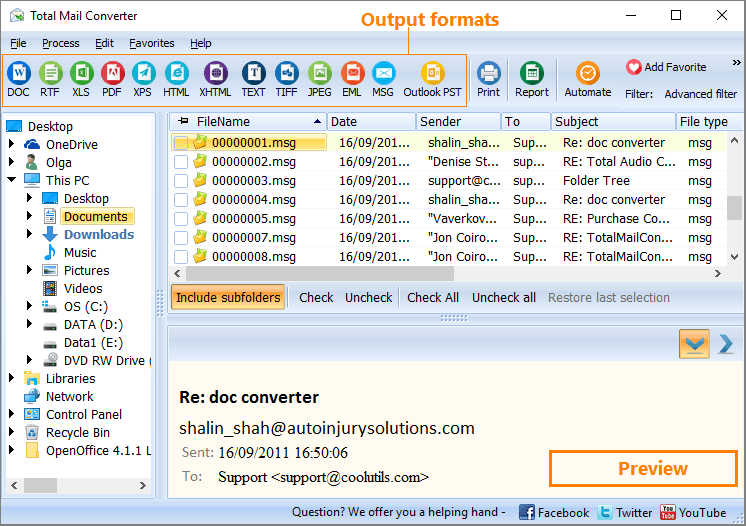 Converting EML to PST may seem strange, but only at first glance. After this EML to PST conversion, you can import emails into the Outlook program. This is just one of the ways to do it. With Total Mail PST Converter, you can convert multiple EML files as well as MSG to a PST format.
PST itself cannot be read as a stand-alone document. It is a data storage for information that is represented in a mail client. Emails, calendar data, contacts, and other info are stored encoded in a PST file.
These files can be imported into Microsoft Outlook for further use of the information inside. A few PST files can be connected to Outlook at once.
This gives the ability to import any message into the program after you convert EML files to PST. Total Mail PST Converter offers you a batch conversion that helps to process many message EML files in a moment.
The main features of our EML to PST Converter Free Tool coolutils.com
You can bulk convert EML files to PST format in seconds using PST converter software (depending on file size).
The solution provided is secure to export EML to PST with attachments.
When you export the EML files, you can keep all the email attributes and properties.
The interface is easy to use, even for beginners.
How to export EML to PST in 1 minute
PST file has no specific formatting; it stores emails with their native formatting parameters. That is why there are no styling options available for the PST converter Software in this program. You are given standard data extraction and exporting it to a new format. The procedure is extremely simple:
First, select the source messages (make sure they are MSG or EML files);
Then choose the target format (click on the Outlook PST icon on the top bar);
Specify the destination in the popped-up settings manager;
Press Start on the EML to PST converter!
Why convert EML to PST?
The primary reason for converting EML to PST is that a PST file holds the entire mailbox data, but EML files simply keep one email. As a result, you can export and recover your mailbox data from a single PST file with ease.
A PST file is more suited for Outlook than an EML file. As a result, to migrate the data, you must convert EML to PST.
In the event of file damage, you can repair the Outlook PST file using scanpst.exe or other techniques. However, recovering data from EML files is impossible.
What is the difference between importing EML into Outlook and converting EML to PST?
The difference is in the processes and how they happen. When using Outlook Express, Windows (Live) Mail, Mozilla Thunderbird, Lotus/IBM Notes, or any other mail client that is not Outlook, you'll have EML files stored somewhere on your PC.
While Outlook can view multiple EML files, it doesn't offer a way of importing them in bulk. However, you can achieve this in the following ways.
Set Outlook as the default way to open multiple EML files and use it to open a single EML file. Once open, you can save EML files into the inbox folder or any folder you choose.
Use a native import script that uses Windows and Outlook scripting to open the EML files and move them to a folder you like. It is a slow process, though.
Use the free Redemption scripting library. The only issue is that the library has to be installed, which may not be allowed on company-owned machines.
For
conversion to PST
, the process is much simpler.
Launch CoolUtils
Open the source folder containing the EMLs.
Click on 'include subfolders' to keep the original folder structure.
Specify where you want the PST file to be saved.
No matter how many source emails are selected for conversion, they will all be exported to one PST file. You can also specify its name. This conversion is also possible from the command line. If you want to know in detail how to convert EML to PST, check the Help menu.
Total Mail PST Converter is free for the first 30 days. Download and install this EML to PST converter tool to test the quality of the EML to PST conversion.
FAQs
? Is it secure to convert EML to PST on coolutils.com?
Yes, it is! We erase uploaded EML files after 24 hours, which renders the download links unusable. Your PST and EML files are not accessible to anyone, making EML to PST file conversion with CoolUtils a risk-free choice.
? Can I convert EML to PST without PST Converter software installation?
Yes. You do not need PST converter software to convert EML to PST file. If your device has a web browser, you can access CoolUtils online to complete your EML to PST conversion.