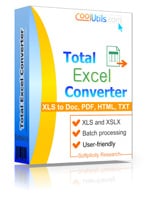 Interface languages: English, Spanish, German, French, Russian, Dutch, Swedish, Italian, Portuguese, Czech, Japanese, Chinese, Korean.
Win 2000/NT/XP/2003/Vista/7/8
XML format is widely used for saving information in structured way, it is a popular alternative to common databases. However the area of using XML is also limited and sometimes it is necessary to represent XML files in another way, i.e. PDF. To do this you will need a good XML to PDF converter that is able to export XML file content to various formats.

In PDF the information is protected from editing, and can be used for demonstrative purposes or backup storage. Total Excel Converter easily solves this task, allowing to convert as many XML sources to PDF as needed within one single command.

In order to convert your XML to PDF with the help of Total Excel Converter, you will need to do this:
Install converter on your PC and open it.
In the opened window you will see the target format bat (at the top) and the navigation tree (to the left). If to click on some folder you will see the list of files it contain in the centre. Here you can check required sources. Remember, this can be one or more files at a time.
Click СPDFТ on the target format bar. In such a way you will enable XML PDF converter that will pop up immediately.
If needed, set specific destination for the future PDF copies, adjust paper size and orientation. The process is the same for one or many sources.
You can check СDelete originalsТ in the last inlay of the options wizard if you donТt need them to be saved after conversion is done.
Click СStart!Т.
In a few seconds you will see the destination folder opened automatically with all converted files. To save your time on conversions, download Total Excel Converter from here and use it 30 days for free.