| | | |
| --- | --- | --- |
| EML Converter To Convert Your Emails Effectively | | (only $49.90) |
Many of mail clients used today store e-mail messages in
EML
format. Microsoft Outlook, Outlook Converter, Mozilla Thunderbird and many others are among EML software. Actively using virtual data sharing for business and personal needs, users overload their inboxes with old e-mails, loosing important information among huge scopes of letters. It is much more efficient to use
EML converter
for exporting e-mail files into handy text or image format. For instance, Total Mail Converter from CoolUtils, allows to export e-mails into one of the following formats: • HTML • TXT • RTF • DOC • PDF • JPEG • TIFF • Excel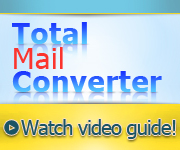 Converting e-mails into text, you can easily edit their content, extracting required fragments from the whole scope of information they store. It is an ideal solution for backing up corporative correspondence with ability to view it anywhere regardless of access to Internet or mail client. This e-mail converter offers to extend the flexibility of EML format by the following features:
Readable EML attachments: if you are using mail clients that don't support EML and receive e-mails with attached EML files, you can easily convert it into DOC or PDF to read it. The format for conversion depends on your personal needs and preferences.
Ability to publish information from the e-mails online: you can create ready-made HTML pages from your e-mails if convert EML to HTML with the help of Total Mail Converter.
Using e-mail fragments as a graphic: you can convert e-mails to one of three graphic formats (PDF, JPEG, TIFF) ideal for printing, storing online, graphic design, etc.
Ability to store old e-mails in one text file: you can convert all EML files that are out of date into one single TXT or DOC file. Total Mail Converter is capable of converting EML files in batches, saving your time and PC memory space.
Total Mail Converter totally solves the problem of EML format compatibility and allows to store e-mail correspondence in more efficient way, relieving your mail box from old messages. Store EML files in any format you like with the help of Total Mail Converter. Download your free trial copy now.
Related topics
Convert EML to PDF
Convert Email to HTML
Convert MSG files to XPS like a Pro!
How to convert Email to PST format?
Convert EML files to PST professionally
Convert MSG to PST with many handy options
Convert Email to TXT and get a neat output.
Convert MSG to Text with Coolutils.
Convert EML to Text professionally
Convert Emails to ODT in batches
Convert MSG to any number of ODT files in one go
Convert EML to any number of ODT files in one go
How to convert Email to Text professionally?
Convert Email to TIFF with Coolutils tools.
Convert Email to JPEG keeping quality
Convert Email to RTF with Coolutils.
Convert Email to DOC. Save time, it's easy.
Convert MSG to JPEG without any problems.
How to convert EML to JPEG fast and easy?
MSG Converter to convert emails effectively
Convert MSG to EML error-free.
Convert EML to TXT automatically
Convert EML to TIFF for your purpose
Convert EML to RTF for backup.