Files with .mid extension will not be played on common music players, as the support of this format now is limited. This is an extension of MIDI format that doesn't contain audio stream information. It stores instruction codes for music synthesizers for recreating the encoded music. If you need to extract the music from MIDI file and listen to it with the help of common playback devices, you can convert MID to MP3 with the help of Total Audio Converter. The program will correctly render MIDI codes to a new format, widely supported by modern software and hardware players.

This MID converter features clear user interface, where each conversion step follows the previous one. So all you need to do is to click on a few buttons to
Specify MID source files
Enable MID MP3 converter
Make audio settings for MP3 copies
Confirm conversion.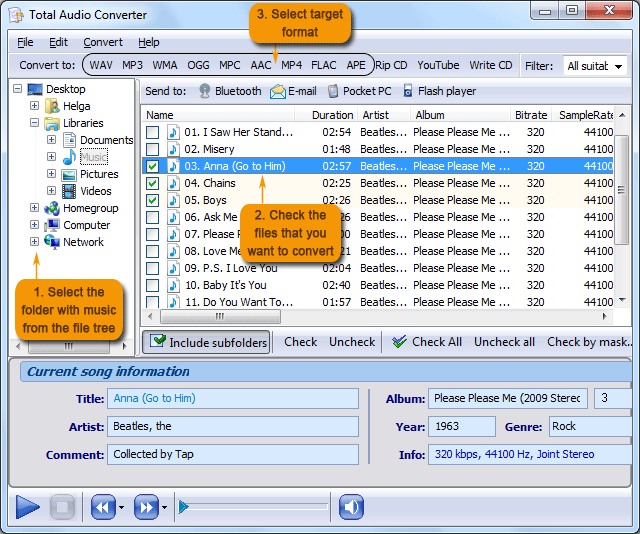 Source file list is formed by checking off required MID tracks from the content list. If there are files of different formats, it will be reasonable to filter MID files by applying *.mid mask. After this you will see all MID files from the chosen folder listed in order. Check off the ones you need to convert and press MP3 in 'Convert to:' bar.
You will see the settings list appeared. This MID MP3 software for converting audio tracks offers a big set of adjustable audio parameters, so you are able to get the required quality of sounding for MP3 copies. Choose specific samplerate and bitrate, sound channels. When converting a few files, you can combine them in one MP3 track by checking 'Combine album' option. You can use only the settings you need, skipping the rest. Also you are able to convert files with settings offered in this audio converter by default.
Make MP3 copies of your MID files right now for free, using trial version of Total Audio Converter. Get it here.