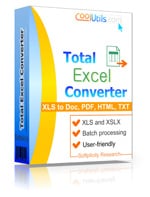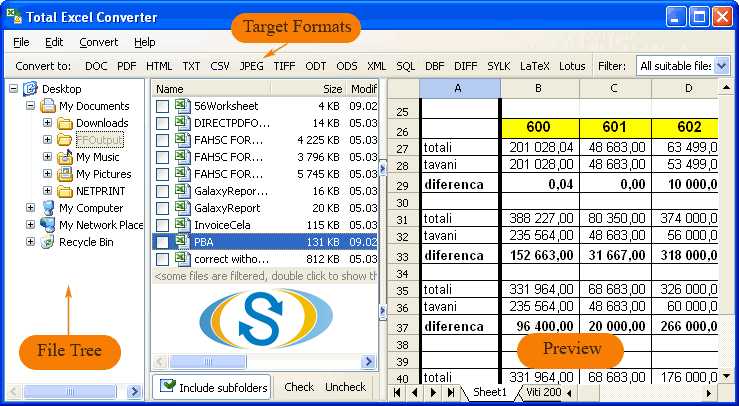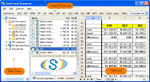 Interface languages: English, Spanish, German, French, Russian, Japanese.
Windows Vista/7/8/10/11
If you would like to make your XLSX files viewable in simple image viewers with no need to install additional plugins or applications, convert XLSX to TIFF using Total Excel Converter. The utility allows getting the exact copy of tables from Excel files with minimum efforts required from user. It processes all the file sheets and even capable of processing many XLSX files in one conversion!

For inexperienced users Excel converter offers conversion with default settings. All user needs to do is to select the source file (or files), define a target format (TIFF) and press 'Start!' to start conversion. These actions take only a minute and result in getting TIFF copies of defined originals (source files). For more experienced users XLSX converter offers extended functionality that allows to adjust conversion. Among the offered options are:
Location adjustment: select required location for the future TIFF files. When converting one file, you will be offered to set its name, if more files – the name of converted files will be identical to original ones;
Paper size settings: select standard or custom paper size dimensions that suit you best. If the selected paper size is not enough to accommodate all XLSX file content, a few TIFF files of predefined paper format will be created.
Paper orientation settings: you can select portrait or landscape orientation according to the way you like to view images. Also the paper orientation choice depends on XLSX originals structure: the more columns it has the more landscape orientation is preferable.
Delete originals: you can check this option off if you need originals to be removed from your PC memory after conversion is done.

Converting XLSX files to TIFF you will also make them editable as graphics. It is useful facility for graphic design, creating presentations or different collages. Ability to represent information in different formats is what CoolUtils brings to its utilities' users. Download Total Excel Converter from official website and use it every time you need to extend Excel files flexibility!