Correct migration from one mail client to another is possible only after proper export of all existing emails. Different mail storage formats is a headache for an avarage user. For example, Mozilla Thunderbird keeps mail history in Mbox file, while MS Outlook uses PST format. To jump from Thunderbird to Outlook, you will need to convert Mbox to PST format. Luckily there is Total Thunderbird Converter that can remove headache out of the process.
This program serves for various email conversions from Thunderbird to PDF, TXT, Doc, TIFF, HTML, EML and PST formats. While formats are used for exporting emails to documents or images, the last two formats are used for importing messages to other mail clients. By converting mails to PST, you will be able to migrate from Thunderbird to Outlook. Be sure to get the following advantages:

You will get a full PST copy of your mail storage without any missed data;

Mail metadata information like To, Cc, Bcc, From and other fields will be preserved;

Mail status (read or unread) is also preserved;

Info about attachments will also migrate from Mbox to PST;

All emails are converted at once.

Total Thunderbird Converter is a tool that works fast, no matter how big the mail storage is. Besides converting MBox files into MS Outlook PST or EML file format, with its help you can simply view the content of original MBox storage. The information in it is encoded, so that it's impossible to read it outside of Thunderbird client. Total Thunderbird Converter features integrated mail viewer that supports MBox type.
The program automatically connects to Thunderbirds and shows all mail folders inside. To enable MBox PST converter you only need to select source emails or folders and press on 'PST' icon at the top of the window.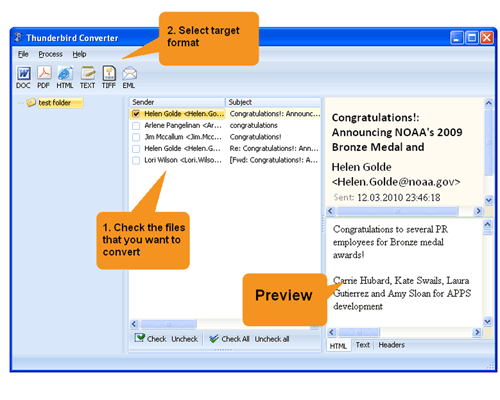 Download Total Thunderbird Converter and make your first conversions for free!