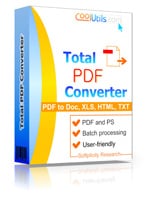 Windows XP/2003/Vista/7/8/10
PDF files are uneditable without expensive Adobe Acrobat. Some of them are even protected from copying, so the information in them can be copied for further use. If you have these problems with your PDF documents, Total PDF Converter can help to solve all of them. The program offers a wide range of formats for conversion, including:
PDF to DOC
PDF to TXT
PDF to HTML
PDF to JPEG
PDF to TIFF
PDF to CSV
If there are some text documents stored in PDF, and you would like to edit them or include to another works, exporting PDF to DOC will be a suitable mode. Microsoft Word format is suitable for processing documentation and is widely supported by various applications. As for the conversion process itself, it is laconic and clearly understandable even for a beginner.
When you launch the PDF converter, you will see the navigation menu on the left, file list in the centre and document viewer on the right. The viewer helps not to mix up the originals when choosing them for conversion. The first step to do in order to export PDF to DOC is to select the list of originals. If you have a few PDF documents for conversion stored in one folder, you can select them all at a time and convert in one batch.
Then you may select the target format. In this case the target format is DOC, so press on the DOC button in the top format line. In the popped up window it is necessary to specify converted files destination and the items to render. All items (text, shape and images) are checked off by default, but you can uncheck any you donít need. After the program exports PDF to DOC, your DOC copies will be stored in destination folder.
Everything is simple, and you can get sure in this right now, after downloading the free trial.