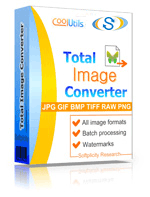 Screenshots:
Roll over to see full-sized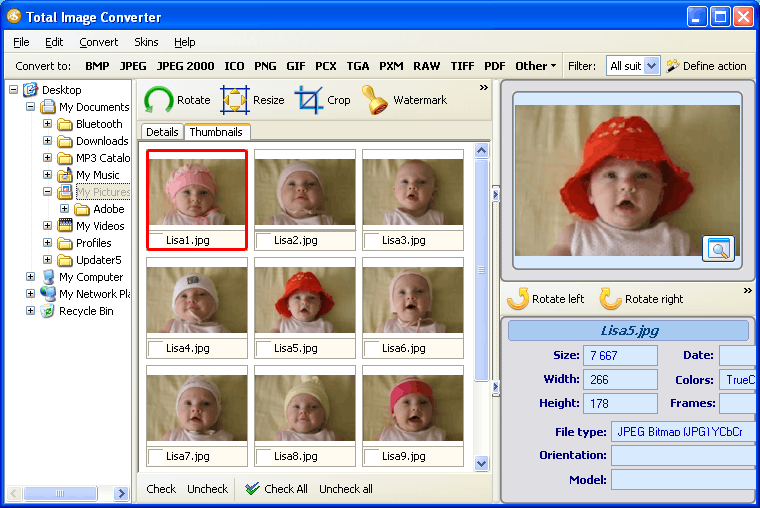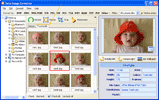 Windows Vista/7/8/10/11
While JPEG is now one of the most popular graphic formats, it is not a universal solution for all purposes. Sometimes it is necessary to convert JPEG images to other graphic formats like TIFF or PNG. Converting JPEG files you make them compatible with those programs and devices that don't support JPEG. Converting images to PDF you limit the ability to modify them. Regardless of your needs, a good JPEG Converter is able to cover them all.

Total Image converter supports about 30 graphic formats, and you can convert JPEG to any of them. The most popular conversion modes are:
JPEG to PNG
JPEG to GIF
JPEG to TIFF
JPEG to PDF
JPEG to ICO
JPEG to BMP

However, even such rare formats like CIN (Kodak Cineon), HDF, Apple PICT are also supported. This makes Total Image Converter the most functional JPEG converter you can ever use. It works very fast, allowing to process hundreds of images in a minute. The program has no limits in number of sources in a batch. That is why it is possible to convert all required source files in one single conversion. Due to this you can save maximum of time on image conversion.
JPEG format compresses images, and it is important not to lose even more quality while transferring images from JPEG to another format. Total Image Converter is able to convert JPEG files saving the original quality. You can choose different colour spaces to save the best colour scheme of the originals. If needed, you can set watermark protection for JPEG files.
Besides conversion features, Total Image Converter also offers a range of image editing features like rotating, resizing, cropping and framing. Inbuilt viewer helps to estimate what changes original images require.
Total Image Converter offers even more. To view all the facilities of this converter, download it and try for free!