| | | |
| --- | --- | --- |
| Convert PCD to JPEG | | (only $24.90) |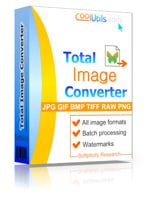 Total Image Converter is one of the best file conversion utilities. It supports almost all standard and RAW formats, and converts PCD files to JPEG. This is one of the easiest-to-use software tools. It is a treasure finding for photographers and designers. By aid of this versatile converter, you can
convert hundreds of PCD files just as fast as one file
.
PCD (Photo CD) is a high resolution image file format, which was developed by Kodak. RCD files are stored on CDs, and they contain five different resolutions. PCD files average 4-6 MB in size, and hence they are less convenient for online transfer than JPEG files. This is one of the most popular formats among professional photographers, as it can be accessed in various dimensions. You can choose any color temperature and store any color information.

Convert PCD to JPEG with Total Image Converter
Total Image Converter will come in handy any time you need to send a file via the web. Because it is not always easy to transfer a PCD file, you have to convert it to JPEG to achieve a smaller size. JPEG files are much more compact and therefore easier to handle. Unlike PCD images JPEG files are widely accepted in the web.
Total Image Converter allows you to deal with more than one file. With the help of batch conversion mode, you can render hundreds of PCD files in JPEG in just a couple of seconds. The built-in viewer enables you to estimate the quality of both source images and target images. By aid of this program, you can rotate, resize and crop your files to your liking.
Total Image Converter integrates into Windows seamlessly. Once you have downloaded and installed it on your PC, the Convert to option appears in the standard popup menu, permitting you to manage your PCD files right from the desktop. Besides, you can convert files from within other programs through command line.
You do not have to be an IT professional to learn how to work with Total Image Converter. The program has a robust and user-friendly interface. The wizard will offer you the most appropriate conversion settings.