If you have a lot of emails in PST format, the default format for Outlook, you may want to batch-convert them to TIFF images. This way, you can retain the contents and appearance of your emails in a protected and portable image format. You can also save storage space and reduce the risk of corruption or data loss.
Total Outlook Converter allows you to convert specific Outlook mail items or entire folders from PST to TIFF in a few clicks. You can customize the output settings, such as compression, resolution, color depth, and more. See how it works with the free trial!
PST to TIFF Converter
TIFF stands for Tagged Image File Format, and it is one of the best file formats for preserving high-quality raster images and information. A TIFF can store multiple pages and images in a single file, so it is ideal for saving detailed documents that contain text, graphics, photos, and more. For example, you may want to convert your emails to TIFF if you need to print them, display them on high-resolution screens, or share them with others without losing any quality or formatting.
With our PST-to-TIFF converter, you can:
Find Microsoft Outlook files on your computer with ease using the built-in search function.
Convert Outlook email items, including calendars and contacts to various formats.
Merge multiple emails into one TIFF or PDF file for easy archiving or sharing.
Preview your emails before the conversion process to make sure they look as you want.
Exclude unwanted fields from your output files, such as the sender and date fields, and keep only the body, subject, and recipient fields.
Choose from different TIFF compression modes to optimize the quality and file size of your images.
Total Outlook Converter is a reliable and professional tool that's capable of handling all your conversion needs. Download it today and enjoy a 30-day trial where you can test out the program's capabilities.
PST to TIFF Converter Specifications
Full Software Name
Coolutils Outlook Converter
Description
Single-file and batch converser of PST/OST files to HTML, and 12 other formats
Processor
At least 2.4 GHz
RAM
2 GB
Minimum Hard Drive Space
193.2 MB
Operating System
Windows
2000/2003/Vista/7/8/10/11
Trial version
Free trial for the next 30 days!
How to convert PST to TIFF
Below is a step-by-step guide on how to convert PST files to TIFF using Total Outlook Converter. Note that the tool can also be used to convert
PST to EML
or
PST to DOC
.
1) Install Total Outlook Converter
Download the TIFF converter tool from this page. Double-click the setup file to launch the installation wizard and follow the prompts.
2) Choose the files to convert
Open the PST to TIFF conversion tool and select the Outlook PST file you want to convert.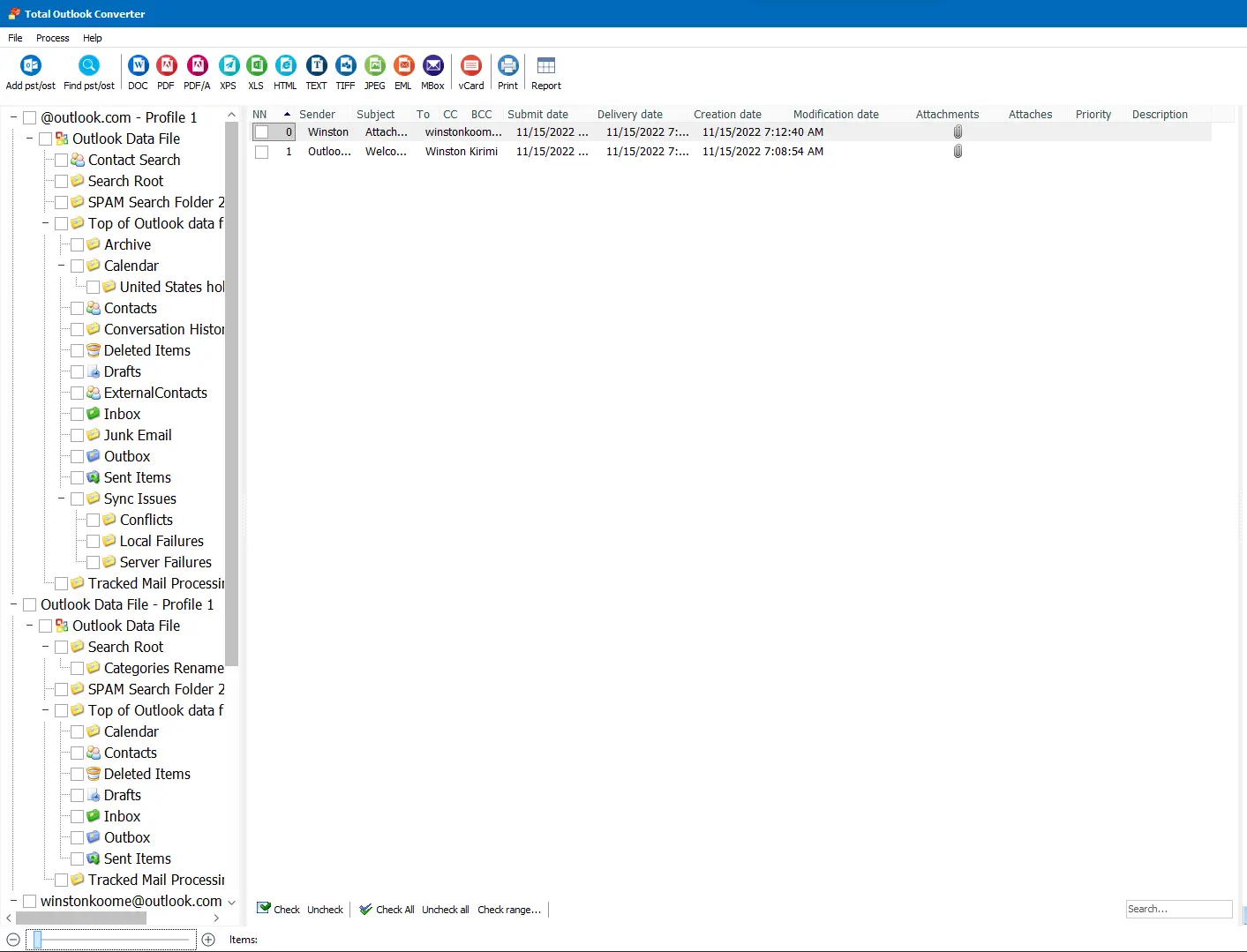 Note that you can automatically scan for multiple PST files saved on your device. Just go to File > Find Outlook Files.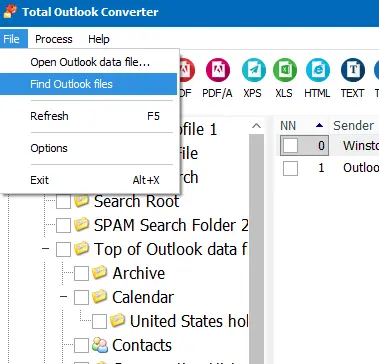 Select the different directories where you want to scan for PST files: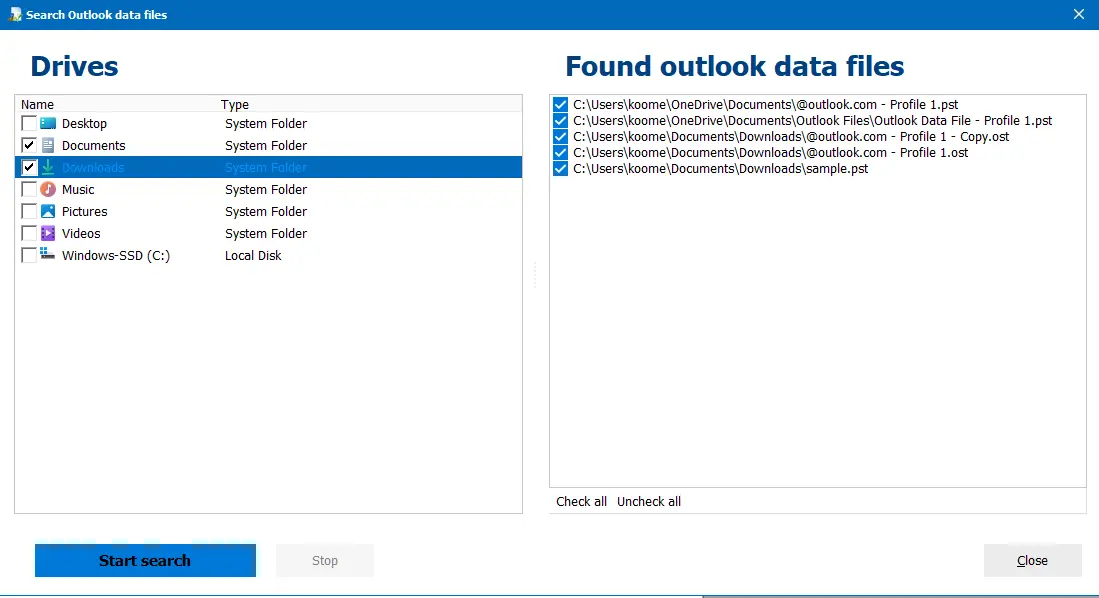 3) Select individual Outlook files to convert
On the screen's left side, your PST files will be displayed in a folder hierarchy format while revealing their content.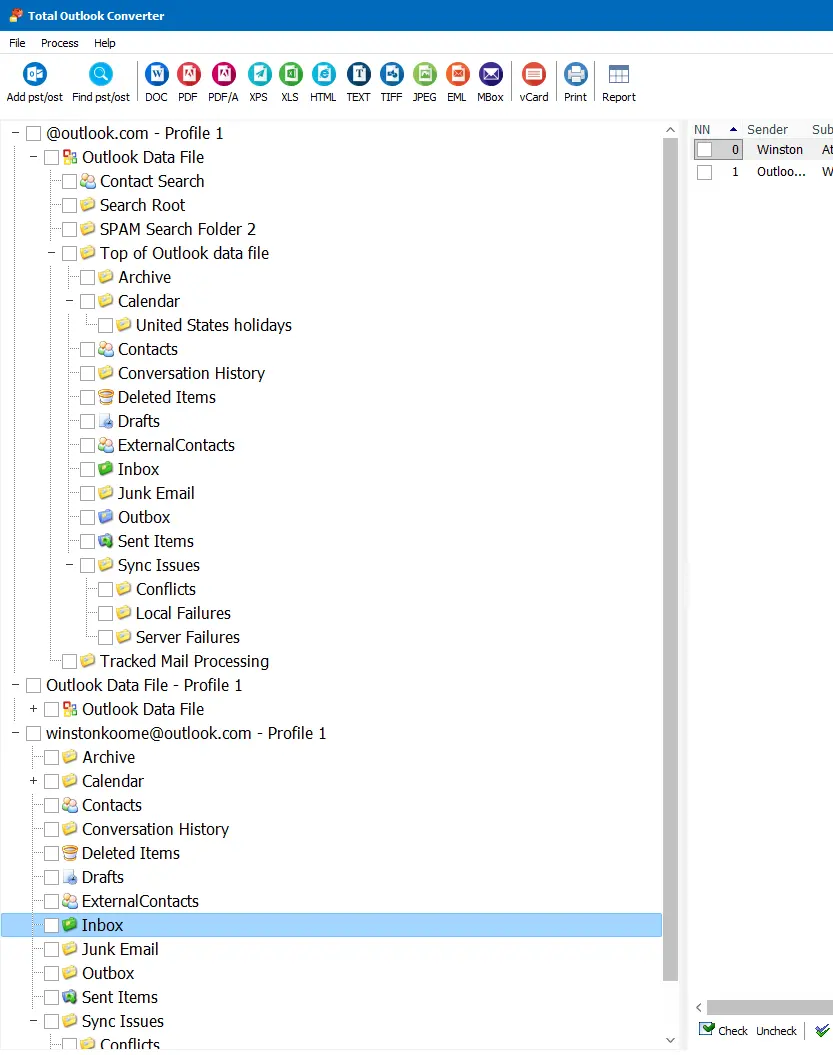 4) Set the conversion parameters
Next, specify the parameters in which you want to convert PST to TIFF pages.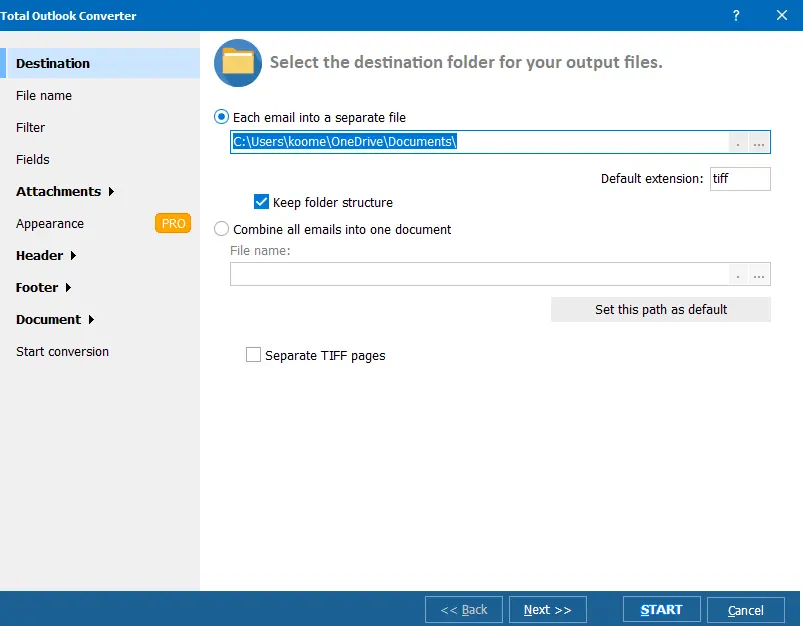 You can apply a wide range of customization options, including saving Outlook emails in separate files or one document, applying filters, customizing the appearance, adding headers & footers, and more!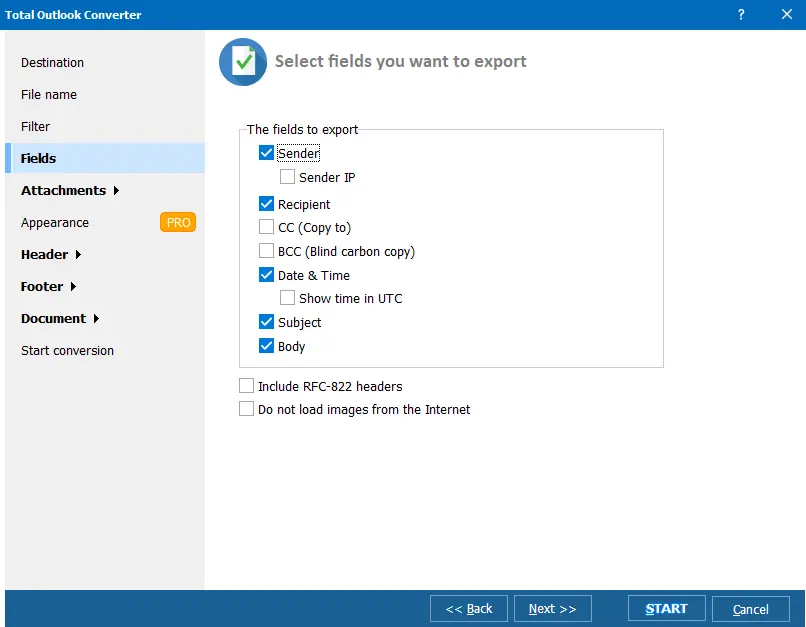 5) Export emails to TIFF
Click the 'Start' convert button to start converting your PST files to TIFF. The tool will display a pop-up window after the conversion, and launch the file location with your files.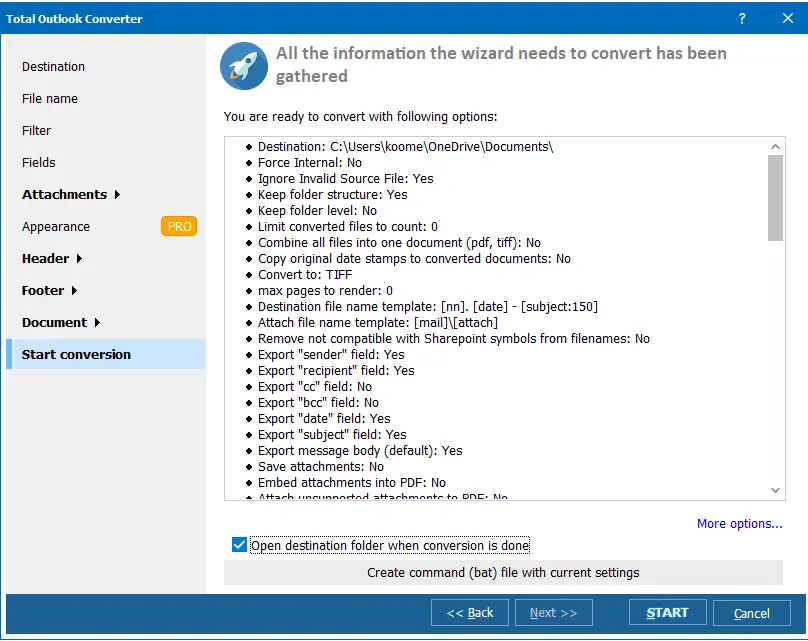 6) View the final output
After the conversion, the TIFF converter software will launch the file directory with your converter file. You can your native photo view to view the TIFF file.
Batch Convert PST to TIFF with CoolUtils
With CoolUtils, you can similarly bulk convert PST to TIFF in mere minutes:
1) Select multiple PSTs
Launch the Total Outlook Converter tool and add your PST files, automatically or from the file explorer.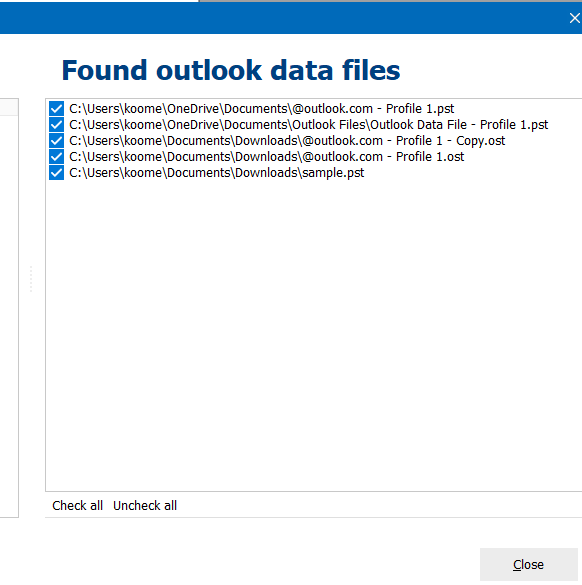 After adding multiple PSTs, check all the file folders you wish to convert, even across separate files: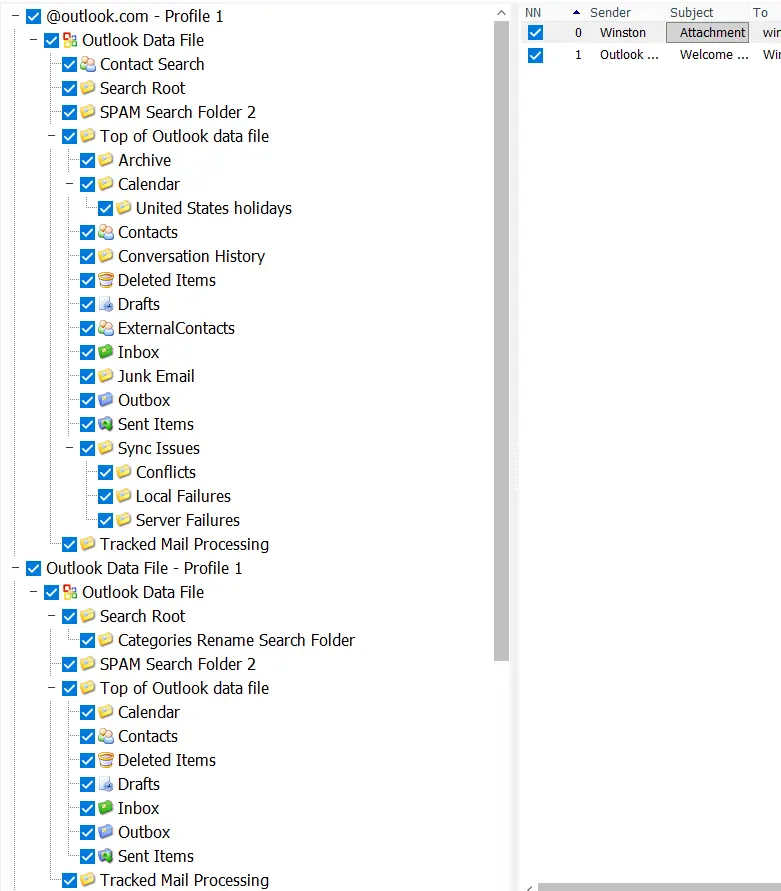 2) Set conversion parameters for multiple PSTs
Proceed to customize your conversion parameters, such as the File name, merge settings, footers, headers, and document settings.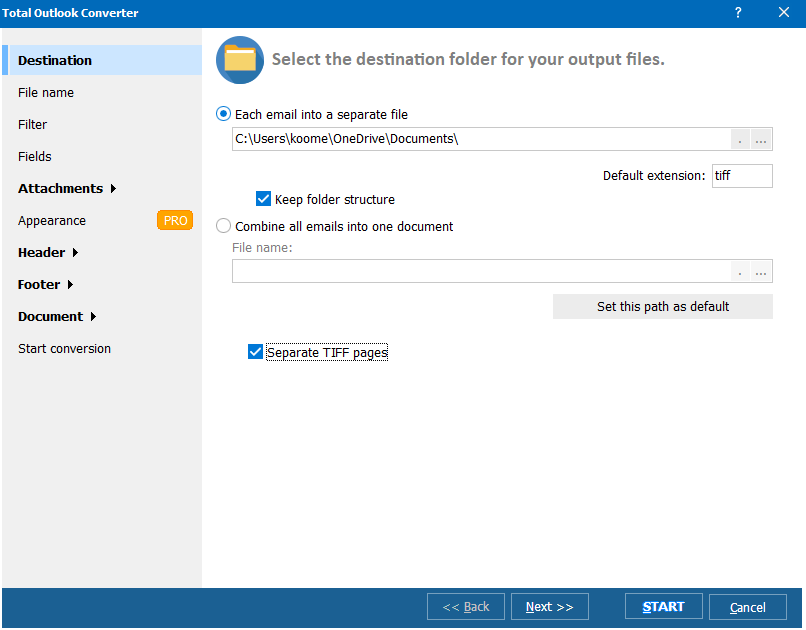 3) Convert PST emails to TIFF files
Click 'Start' to initiate the batch conversion process as you wait for the complete Pop-up window.
4) View your TIFF files
The time taken for the conversion will vary depending on how many items need to be processed. After the conversion, the converter will automatically launch the output folder for convenient viewing.
5 Reasons to Use PST to TIFF Offline Converter
If you're looking for a reliable offline converter, CoolUtils Total Outlook Converter represents the best choice. Here are some of the benefits of using our tool over online services:
Protects your privacy and security: You don't have to upload your sensitive data to third-party servers when you use this tool. A local installation is more secure and safeguards your data as you convert PST files to TIFF format.
Preserves the quality and integrity of your data: Total Outlook Converter ensures that the converted TIFF file maintains the same format as the Outlook TIFF files, including the content and the attachments.
Enhances the compatibility and accessibility of your data: The PST format can only be opened with the MS Outlook software. However, the TIFF file format is widely supported and can be viewed with native image viewers.
Offers a free trial period for 30 days: You can test the performance and functionality of this tool for free for 30 days.
Provides convenience and accuracy across different time zones: It can handle and organize Outlook messages from different time zones correctly by using the Coordinated Universal Time (UTC) format.
Try Our PST to TIFF Converter!
CoolUtlis PST to TIFF converter is an all-in-one solution for any Outlook-related conversion process. It's simple to use and reliable with many features and customization options that allow you to precisely control the quality of the final output.
You can use it for your personal conversion needs. Similarly, it can handle multiple Outlook files at once, making it useful in more demanding applications like conducting forensic audits. Download it here and convert PST files to TIFF easily.