We all keep many of our files in the PDF format. Governments and industries the world over recognize it as the most secure and dependable formats around. But there is one problem. Have you ever wanted to share just a part of the PDF file and the not the whole? You wanted to send someone just certain PDF pages, but didn't know how to take them out of the PDF file? This is where a PDF Splitter from CoolUtils comes in.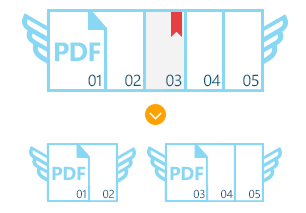 PDF Splitter is a simple and fast tool that can split PDF file into smaller PDF files, leaving the original intact. The choice is yours as to how you want to split PDF file - by page numbers, page ranges, or bookmarks. This is how it works:
Open PDF Splitter. From the column on the left, select the folder that contains the PDF files that you wish to split. The list of files in the folder will appear on the right. Tick the one that you wish to split. Click on Split to PDF on the top left corner.
A dialogue box will pop up. Set a path as default and click on Next. Extract the pages from the PDF file that you wish to split from the options given - all pages, selected pages. Selected Pages option is great when you need just particular PDF pages to be extracted (for example, the first 5 pages). The app also split PDF files by bookmarks, blank pages or bar codes.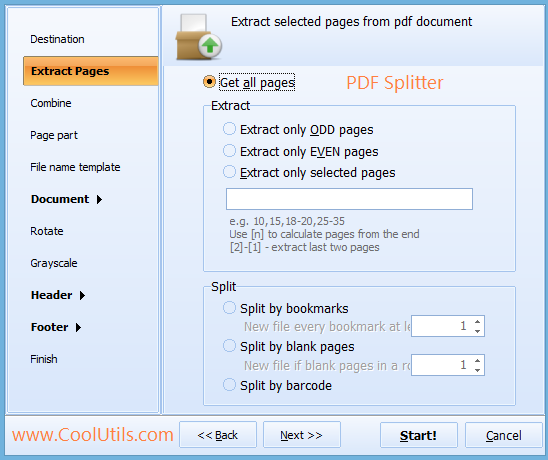 Wasn't that easy? You can rely on default settings or set your own params. You can even password protect and apply other security features to the split PDF files if you wish. Above all, you don't even have to have Adobe Acrobat to split PDF files. PDF Splitter is that handy, the ultimate tool to have.
Get the free evaluation version now or place your order (the price starts from $59.90) and enjoy the most powerful PDF Splitter with a life-time license.
Windows XP/2003/Vista/7/8/10/11