| | | |
| --- | --- | --- |
| Convert DXF to PDF | | (only $99.00) |
Interface languages: English, Spanish, German, French, Italian, Dutch, Russian, Korean, Japanese.

Many electrical, mechanical, and architectural designs are in DXF format. If one sends them to a client without AutoCAD he will not be able to view them. So many people first convert DXF to PDF. Output PDF files can be viewed on any computer with the free Acrobat Reader; besides they are smaller in size and suitable for emailing.

The problem is to select the right DXF to PDF converter. It should support all types of DXF files. It should work without AutoCAD. It should work in a batch mode; otherwise you can save DXF files as PDF one by one manually. It should not cost a fortune. It must be reliable.

Why is Total CAD Converter from CoolUtils the right converter to convert PDF to DXF?

First, its powerful engine supports all DXF files produced by various programs.
Second, it converts DXF files in 3 clicks and does not require AutoCAD. Total CAD Converter processes .dxf files in batches - one of them or hundreds of them. If you convert several folders with DXF files to PDF the program will keep the folders structure.
Total CAD Converter is very affordable. The price includes 1 year of upgrades and tech support. There are no hidden costs.
Total CAD Converter is a truly reliable program. Hundreds of customers from small and medium businesses have already benefited from it.
The program is very flexible: it offers lots of options to achieve best results. It can resize files, add pagination or watermarks.
It converts DXF files via command line as well as via interface.

How To Convert DXF To PDF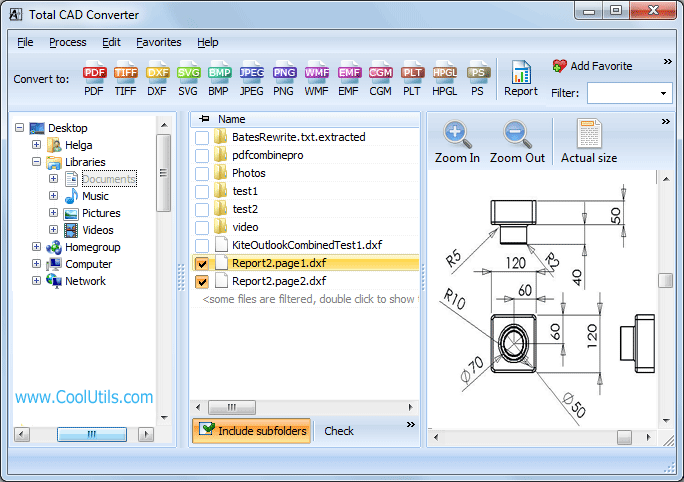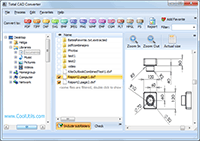 After you download and installed your copy of Total CAD Converter you see the main interface of the program. You select the folder from the folder tree. All DXF files from that folder are shown in the main panel. Check the ones you need and press
Convert To PDF
button. If there are a lot files checking one by one will take hours. Total CAD Converter offers
Check All
option.
Then Total CAD Converter will ask you a few questions. Go though all the setting step-by-step and set the best values. If you are at a loss leave them as they are. The program automatically chooses the most appropriate settings to convert your DXF to PDF. After all the settings are done Total CAD Converter starts the conversion. In few minutes you get your new PDF files.
With Total CAD Converter you can convert DXF to PDF via command line. The command line parameters can be found here.
Being developers not resellers we can customize Total CAD Converter to your particular needs. Once you lack any option let us know. Customization is often free to the registered users.
Get your copy of Total CAD Converter now to convert any number of DXF files to PDF in minutes.
Related topics
Convert DXF to PLT any number of files at one go