How to Convert AVIF to PNG Online?
Converting your AVIF files to PNG is straightforward with our user-friendly online AVIF to PNG converter. Here's a simple, step-by-step guide on how to convert AVIF to PNG: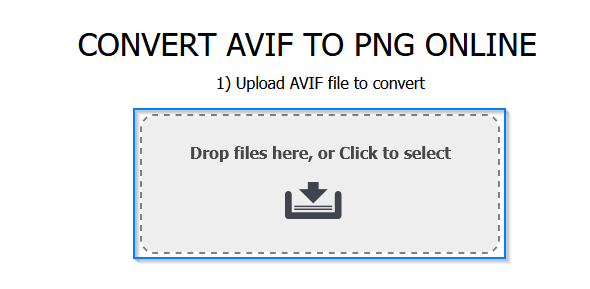 Select Your File: Upload the AVIF file you wish to convert by dragging and dropping the file or uploading it from your device or computer.

Choose PNG as Output Format: After uploading, select PNG as your desired output format.

Start Conversion: Click the "Download Converted File" button. Our tool will change your AVIF image to a PNG file.

Download Your PNG: Once the conversion is complete, download your PNG file, now ready for use across various platforms and browsers.

CoolUtils AVIF to PNG Converter: Convert AVIF Easily & Quickly
Dealing with different image formats can be a hassle, especially when compatibility issues arise. With CoolUtils online image conversion tool, converting your AVIF image files to PNG is fast and easy.
Our AVIF to PNG converter is not only easy to use but also very efficient. The tool can convert from AVIF to PNG and many other file types. The online version allows you to convert one AVIF image to PNG at a time, but the full version can convert AVIF files to PNG in batches.
Whether you're a graphic designer, web developer, or someone who just needs quick image conversion, our online AVIF to PNG image converter is designed to make your life easier. And with the full version of our software, you can have AVIF converted to PNG in no time with a wide range of adjustable settings. Here are the main reasons why one might need to change AVIF to PNG.
Universal Compatibility
Have you ever struggled with an AVIF picture that just won't open on your device or browser? That's where our converter comes in handy. It smoothly transitions your AVIF images to the more universally accepted PNG format. This means you can say goodbye to compatibility woes and hello to a world where your images work everywhere.
High Quality
We know how much quality matters to you. When you convert your AVIF file to PNG with us, you can rest assured that the clarity and detail of your original image will be preserved. Your images will look just as sharp and vibrant in PNG as they did in AVIF.
Fast and Free
Time is precious, and we respect that. Our converter lets you quickly transform your .avif to PNG free of charge. With our online AVIF to PNG converter, you get those perfect PNG files in a flash without any hidden costs.
FAQ
What Is the AVIF Format?
The AVIF (AV1 Image File Format) is a cutting-edge format that compresses images efficiently while maintaining high image quality. Developed as part of the AV1 video codec, AVIF support is growing in popularity due to its effectiveness in reducing file size without lossy compression.
What Is the PNG Format?
PNG, which stands for Portable Network Graphics, is a widely used image format acclaimed for its lossless compression. This means that the converted PNG files preserve the AVIF quality perfectly, which makes it ideal for detailed graphics where clarity and precision are essential.
Is It Safe to Convert AVIF to PNG Online?
Absolutely! Using our AVIF to PNG online converter is safe. CoolUtils removes uploaded images from the servers every hour, ensuring your files are securely processed and your privacy is maintained throughout the conversion process.
How to Convert AVIF to PNG in Batch?
Our offline tool allows you to batch-convert AVIF to PNG, so you can efficiently convert multiple AVIF files to PNG format at once. The full version of our software supports multiple customization settings for your needs and can convert .avif to .png through the command line for even more efficiency. You can learn more and download it here: Total Image Converter.
How Many Times Can I Convert and Download?
There are no limits to the number of times you can convert and download files. Our AVIF to PNG online service is designed to accommodate frequent and repeated use, ensuring you can convert files as often as needed.
Are There Any Format Restrictions?
Our converter supports a wide range of formats. While the primary focus is on converting AVIF to PNG, we also offer conversions to and from many other file types, accommodating various file sizes and image quality requirements.