What should you know about PDF Combine?
The benefit of PDF Combine is that it can easily provide you with a tool to merge multiple PDF files into a single document. This will be a lot easier for you if you want to create a table of contents with bookmarks. You won't have to be overloaded with any type of functions that you don't need at all.
The ability to access PDF merge features is very helpful. And with this, you get to merge any type of content with little to no effort in here. That alone makes this tool a pleasure to use and a very powerful one at that.
Moreover, PDF Combine is designed to help you combine everything into a single document. Merging PDF files is very important, as these are commonly used in the online world, and you do need to use this type of files if you want to get the very best quality and value that you want on the market. The app can even combine files by folders and you can even combine based on the common name parts. If you need to, you can combine via the common name part, which is extremely helpful.
Most of us want to create bookmarks in PDF or maybe learn how to join PDF files with little to no effort. The reality is that there are many times, especially in the business world, where you need to join PDF files. You don't have to stick to 10 PDF files that have similar information, as you can easily lose one of them. When you join PDF files, it will be easier for you to get the job done.
Our solution allows you to easily track and manage all these types of files naturally. It will be a lot better and easier to manage all these types of files, and each time you work with this tool you will be able to combine as many file types as possible.
Customization
When you want to use PDF Combine for your business, you most likely realize that there are some extra features you need. Some companies want to bookmark pages in PDF, while others need to add specific page numbers. Regardless of the situation PDF Combine can be customized by us to suit the needs of your business. We can easily add or remove any particular option. There's only a small customization fee (normally $100-200) that you need to pay and we will gladly provide you with an app designed for you.
Flexible licensing
We understand that a business will sometimes need more than a single PDF Combine license. That's why you need to access our flexible licensing feature if that is the case. We are offering home use and commercial use features, as well as an affordable website license for up to 30 users in a single company. At the same time, you can also get a serve license as well as a developer license. PDF Combine starts from $59.90 for a lifetime license with one year of free major upgrades included.


How to use PDF Combine?
Using this app is easy. You just have to select the files, queue them in the order you want and join them. You can sort the files by file names, file size, date and many other fields. Alternatively you can use drag and drop option to move the file up and down. The process is extremely simple and the results you get are seen instantly. You can batch process as many files as you need, so no worries.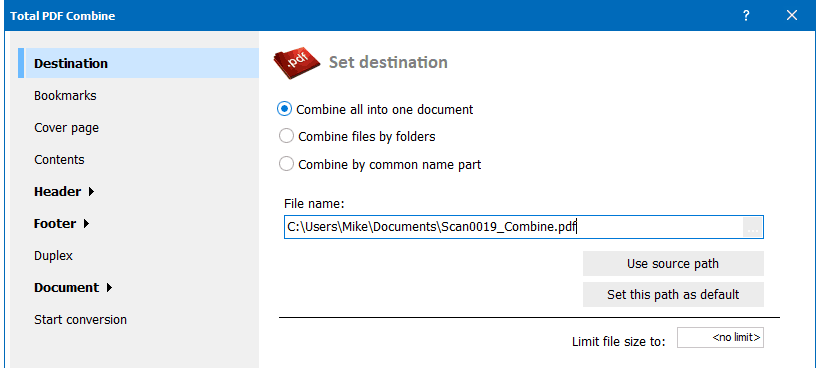 If you need the ability to join PDF in any way you need, then PDF Combine is the right tool for you. This is set to provide you with outstanding and high standard features. All you have to do is to check out this application and start using it, especially if you need to combine PDF in a professional manner.
What users say about PDF Combine

"Normally, I don't reply to requests for feedback. However, credit where credit is due - your customer support has been fantastic. For ease of reference, my issue was the inability to register a key bought for your PDF joining software. I received 3 e-mails offering apologies, and alternative methods of registration.
On the back of this, I had absolutely no hesitation in purchasing another of your products almost immediately, which registered with absolutely no issue. Thank you for this, its been one of the rare occasions in buying software via download where the outcome has been more than satisfactory. Thanks again."
Graeme Pollock
Michigan