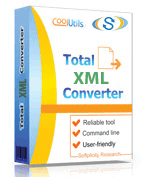 Interface languages: English, Spanish, German, French, Russian, Dutch, Swedish, Italian, Portuguese, Czech, Japanese, Chinese, Korean.
Windows Vista/7/8/10/11
Very often users find it very hard to deal with rare file formats. XML, Extensible Markup Language, and CSV, comma-separated values, are the formats that not every user can open and edit. The former is a format that actually represents a set of rules for encoding documents in machine-readable form. The latter is a file format designed to store tabular data that is presented as plain text.

When it comes to converting XML into CSV, most users find themselves at a loss because software compatible with XML does not allow to convert XML to CSV. If you want to get high quality results and to save as much time as possible, we suggest that you download XML CSV converter.

There are several programs available online, all of which are offered by different software developers. XML converter that is already owned by thousands of users is Total XML Converter. Having been developed by CoolUtils, a reliable software developer, this tool is easy-to-use, functional and very affordable.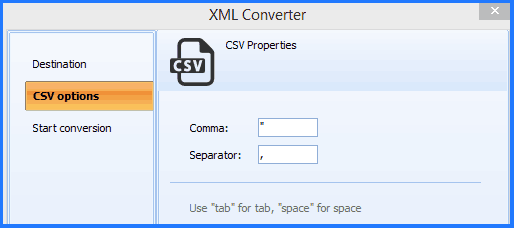 First, let us explain why Total XML Converter is suitable for all types of users. The interface of the application is so simple that it can be mastered by anyone. Those, who need extra help, can use online videos and how-to articles available on the official website of CoolUtils for free.
Second, let us give you evidence of the high functionality of Total XML Converter. This tool, unlike many other programs, is compatible with a large number of formats. The output formats that can be processed with Total XML Converter are: CSV, XML, JSON, PDF, TIFF, JPEG, DOC, etc.
Finally, let us show you why Total XML Converter can be purchased by virtually anyone. This tool is offered by CoolUtils for under $40, and the price includes free customer support and upgrades. Moreover, a free trial version of the converter is available for anyone who wants to use the program for 30 days before buying it. Download Total XML Converter now!