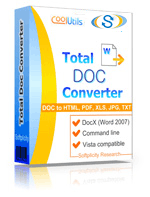 Total Doc Converter is a professional solution to convert documents (Word, Doc, DocX, DocM, RTF, RVF, or TXT files) to HTML, PDF, XLS, JPG, TIFF, and text.

Total Doc Converter preserves document properties (author, creator, key words, subject, title) when you convert DOC to PDF. Alternatively, you can enter new properties for the output PDF file. Also you can encrypt the final PDF file and protect it from copying or modifying.

When you convert DOC to PDF or TIFF you may combine all source files in one target file. I.e. convert 6 documents into one multi-page TIFF file.

The latest version of Total Doc Converter supports DocX (Word 2007 format). Having installed the Microsoft Office Compatibility Pack you can use Total Doc Converter to convert DocX files to HTML, PDF, XLS, JPG, TIFF, TXT.

We have also added several options to deal with fonts: now you can define the output font name, font size and font style (bold, underline, italic, strike out). To ensure the output is perfectly formatted we also added a WordWrap option. Use this if you do not want lines in your document wrap.

The program is powerful and convenient. Its intuitive interface makes it easy even for beginners to learn to use it. In addition, there is command line support. This is useful for those who wish to launch Total Doc Converter from within other programs.
We are developing a new option of converting files from Google Docs. If you are interested, send us a message. We will send you the beta version. All testers get the free key!
Total Doc Converter tailored to your needs!
As we are the developers of Total Doc Converters we will gladly customize it for your particular case for free. Do not hesitate to ask if you need any additional feature that would save you loads of time and effort. Like Martin Harris from MHTechnology.net who asked for an automatic determination of paper orientation. He got this new feature for free in several days. Don't hesitate to contact us.
Online help
Learn how to convert Doc files to other formats via user interface or command line. Step-by-step tutorials with screenshots.
Support and Upgrades.
Read our support policy to find out support or upgrades options for Total Doc Converter. New registered users get 1 year of software maintenance for free.
Want to convert every new Doc file to HTML, PDF, TXT or images automatically? Take a look at Total Folder Monitor. It watches any folder and launches Total Doc Convetrer when a new file arrives.
If you want to convert DOC files on web-servers or services - use Total Doc ConverterX (Active X is available for registered users).
Source formats: Doc, DocX, DocM, RTF, TXT.
Target formats: HTML, PDF, XLS, JPG, TIFF, TXT.
Attention!

Total Doc Converter in our blog:
Complete list of supported conversions
If you don't have MS Office or MS Word installed on your computer, please download this additional free office converter pack to convert doc files.
What's new: TotalDocConverter 2.2
WordWrap option
Set font name
Set font size
Set font style (Bold, Underline, Italic, StrikeOut)
Autosize (landscape/portrait files fit into page perfectly)
Encrypt final PDF files
---